Could you look after an amazing Canine Partners Brood Bitch?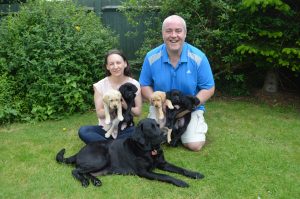 We are on the lookout for volunteer Brood Bitch Holders to care for our breeding stock as well-trained dogs within the home. You will also be responsible for taking care of the new-born puppies until they are around 7 weeks old.
What is a Brood Bitch Holder?
You will be responsible for taking care of the brood and her puppies. The brood will be mated once a year and will give birth to her pups within your home. It is expected that she will have approximately four litters (one litter per year) before being retired.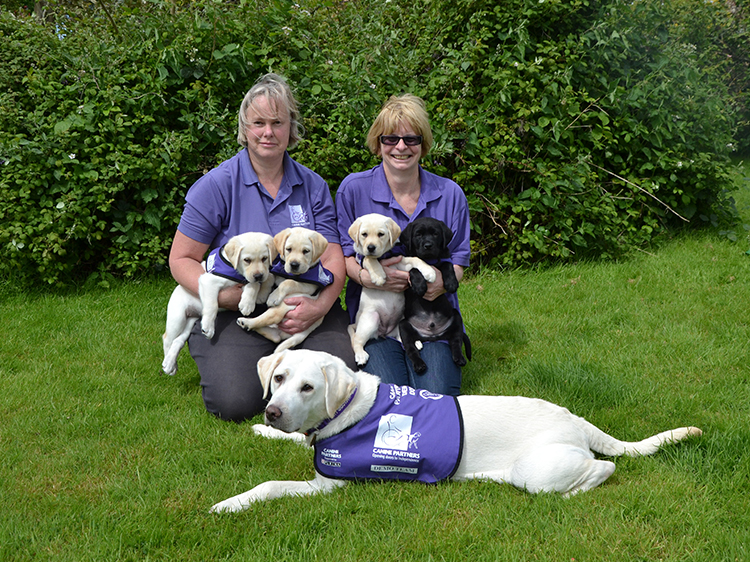 "My husband and I feel very privileged to have been able to give an exceptional start to puppies which then go on to change people's lives for the better. Nothing will replace the special moments that we have shared with our Brood Bitches and their puppies. We attended the partnership day of one of the first litter, we were as proud as punch to see what we started in motion and how the pup has ultimately changed the life of someone with a disability."
Tina, a Brood Bitch Holder in Hampshire
Looking after the brood
It is vital that the Brood Bitch is kept fit and healthy to ensure the safety and well-being of her and her litter. Her care will include regular vet visits and whilst pregnant the bitch cannot be left alone for more than 3 hours.
Looking after the puppies
The puppies will spend their first seven weeks at the home. You will be required to look after the puppies during this time. This includes:
Weaning the pups
Feeding them the right foods to promote good health and well-being as they grow
Introducing the puppies to play
Stimulating them through stroking and cuddling
Critically starting off the early socialisation e.g. through the daily noises within you home such as talking, the radio & TV, visitors, children, other adults etc, and giving each puppy some individual daily attention
What support will I receive?
Throughout the process, especially for the first litter, you will be provided with full training and support from our expert breeding team.
You are given the financial support to cover the cost of food and any vet treatments. You will also receive all of the required specialist equipment for whelping the puppies. Guidance will also be provided for the puppies' health and development at all stages.
Please note that whilst the above costs are covered for the brood and her pups, you will be required to buy a bed for her to sleep in as well as a few other smaller items such as grooming equipment.
You will also have access to 24 hour emergency support from our breeding staff should any issues arise.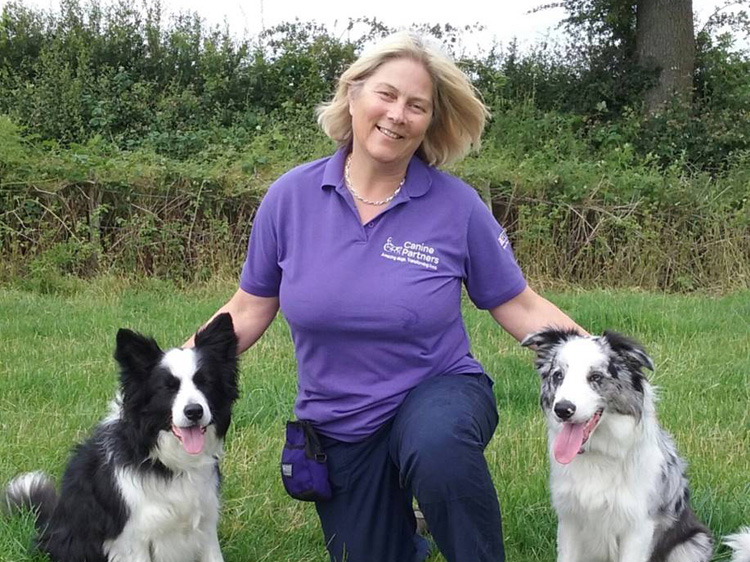 "We are building our breeding programme to provide more amazing dogs, so the role of Brood Bitch Holder is crucial to our future."
– Lyn Owen, Puppy Training & Breeding Manager
Why become a Brood Bitch Holder?
Being a carer for one of our canine partner broods and her young is a highly rewarding voluntary role. Having a brood is a unique opportunity that will provide the best of both worlds:
You will get a well-socialised dog to live with you as a part of your family, you will also get all of the education, support and guidance needed to build on her basic puppy training
You will also get to be involved in the very beginning of a future canine partner's journey
Watch our video featuring Brood Bitch Holder Tina Williams
Who can become a Brood Bitch Holder?
You do not need to have any prior experience, as all of the relevant support and training will be provided. However, to care for one of our breeding stock you must meet the following criteria:
Be aged 18 or over
Live within the designated area – please see map below
Be a dog lover interested in volunteering with dogs and have a calm and caring disposition
Have time to devote to the brood and her litter. The brood cannot be routinely left for more than 4 hours in a day
Have space within the home for the brood bitch and her litter
Have access to a car and be willing to drive the brood bitch on essential journeys such as vets appointments and pre-mating tests as required
We are looking for Brood Bitch Holders in the below area:
> Read our Brood Bitch Holder FAQs
How do I apply to become a Brood Bitch Holder?
If you have any questions about becoming a Brood Bitch Holder for Canine Partners or would like to apply please fill in the enquiry form below and a member of our breeding team will be in touch.
Alternatively, you can call Sian Evans on 01530 225943.
Interested?
Register your interest or ask us a question.