Be a speaker
You can help raise the awareness of Canine Partners by joining our network of volunteer speakers who spread the word about our work. We receive requests for talks from groups such as schools and youth groups, Women's Institutes, Lunch Clubs and everything in-between! If you would feel confident to take on this role, and help us to educate young young people and adults about disability and how an assistance dog can help, please get in touch. 
We'll give you full training, support and promotional materials.
You need to:
be aged 18 or over

enjoy meeting people of all ages and walks of life

be passionate about the work of Canine Partners

be available to give talks during the day and sometimes in the evenings

have your own transport

Be confident using a computer, have your own email address and internet access
What you'll need to do:
attend an initial training day and ongoing training sessions as required

give talks to community organisations such as WI, lunch clubs and golf clubs etc.

attend cheque presentations and local events on behalf of Canine Partners

liaise with Canine Partners' staff to organise your speaker visits
What's in it for you:
As a speaker for Canine Partners you will have the satisfaction of knowing you have spread the word about our work to a wider audience, and are helping secure the future of our charity.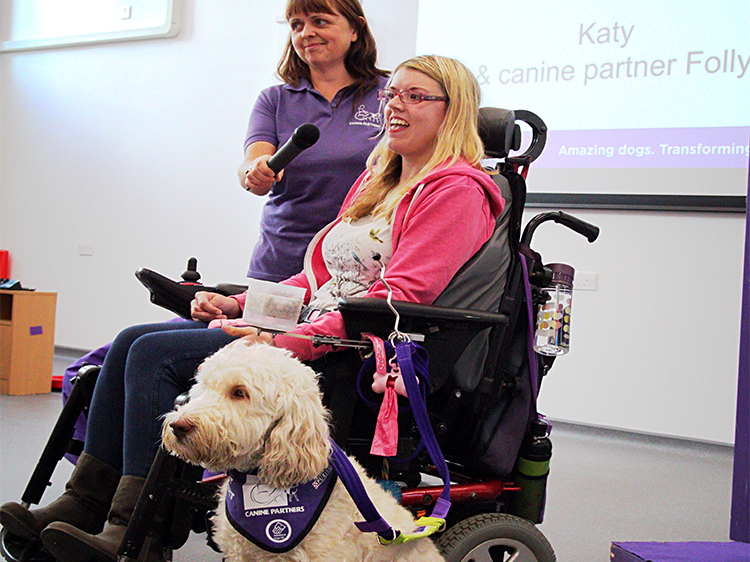 "I am a volunteer speaker for Canine Partners because I am passionate about spreading the message about how these amazing dogs can and do change lives. I used to be a shy person but with my canine partner Folly sitting beside me the words just come out and my confidence has grown so much. I would really recommend becoming a volunteer speaker as it's a great opportunity to raise awareness of the Charity, meet new people and increase your confidence."
Katy, a volunteer speaker who has canine partner Folly
Interested?
Register your interest or ask us a question.