Donate goods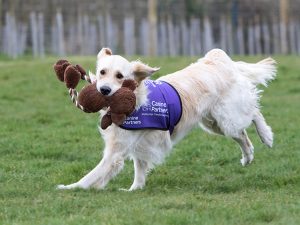 We sometimes need specific items to be donated. These are usually sent, or delivered, to our Southern or Midlands Centres.
We need dog toys!
Our Dog Welfare team need more  toys (for the dogs of course!). Toys play a big part in the training of an assistance dog and we get through hundreds in a year. Whether it is for our puppy training classes, or for our dogs in advanced training, toys are important at Canine Partners. By donating a suitable dog toy, you will help save money, and that will enable us to train even more amazing assistance dogs.
Here's what we need…
Soft toys – no beaded eyes or noses please (for safety's sake). No beany-type toys
Rope tug toys – such as 'Ruff and Tuff' or 'Nerf Trackshot'
Hard rubber toys / indestructible toys – like 'Kongs' and 'Tuffy' toys
Please do not donate any tennis balls – thank you!