Nominate us as your Charity of the Year
Nominate Canine Partners as your Charity of the Year or choose to support us in a multi-year partnership. As a Corporate supporter of Canine Partners, you will help us train more of our amazing dogs for people with physical disabilities in the UK.
Benefits of Choosing Canine Partners as a Charity Partner.
We will work closely with you to understand your needs and how you would like to structure a charity partnership that will motivate your employees and meet your charitable objectives. Our team will support your employees with all their fundraising and volunteering activities, including helping to create a structured annual fundraising plan. This could include an annual calendar of events such as sponsored runs/walks, bike rides and swims and other fundraising activities such as quiz evenings, barbeques, office collections, cake sales and dress down days. We can support with fundraising materials such as posters, leaflets and sponsorship forms and our team can also provide advice on using fundraising platforms such as Just-Giving, and lots of encouragement along the way too!
We will also provide opportunities for your employees to volunteer with us, which might include Corporate Volunteering Days or assisting at our fundraising events and awareness days. Employees may also have a particular skill that they wish to offer as pro bono support to our teams.
Volunteering brings significant benefits to your employees, helping to increase team working skills and improve morale through working together for a worthwhile cause.
Corporate partnerships are promoted across our digital channels and we can offer a range of PR benefits to members of The Canine Partners Business Club, including reaching new audiences and providing networking opportunities with other businesses that support our work.
Canine Partners have built a reputation of excellence across all its services and we have the infrastructure to use the financial support we receive from Corporate Partners to implement and sustain long lasting projects, so that real positive change can take place with evidence-based outcomes. We will provide you with case-studies to highlight how your corporate support makes a positive difference to the lives of people with physical disabilities. You are also welcome to visit the charity to meet some of our partnerships and hear more about projects you have helped to fund.
How to support Canine Partners
We can find challenge events with our recognised partners for your employees to take part in or we can assist you to organise your own fundraising events or participate in events organised by Canine Partners. Companies can claim tax relief for donations made as a charge against income in their corporation tax..
Gifts in Kind and Pro Bono Support
These are a great way to utilise your company's assets and the professional skills of your staff.  in helping you achieve your corporate social responsibility goals and demonstrating your commitment to our cause.  From donating items that help our dogs in training, to providing professional advice or supporting us with raising awareness of our charity and fundraising, this  support can help us save valuable resources meaning that more money can be spent on our vital work.
We can offer you the opportunity to sponsor one of our dogs through training. For a minimum of £7500. You can also name the puppy and receive regular updates on their progress through training.
Sponsor one of our events:- We hold events for the public and our supporters at our Training Centre and at other locations throughout the year- it's a great way to raise awareness of your brand and your support for Canine Partners.
Sponsor our advanced trainers:- Our expert Advanced Training team teach the specialist skills and behaviours our dogs need to become a fully-trained Canine Partner assistance dog.  Your sponsorship will be vital in helping ensure our dogs progress through this essential step in their development.  Talk to our team to find out more.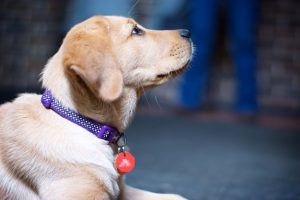 We provide plenty of opportunities for your employees to engage with Canine Partners including:-
Corporate Volunteering and Team Building Days at our Midlands Training Centre.
For teams of up to 15 people there are outdoor activities including gardening and site upkeep, outside repair or painting. Volunteer support with these activities helps with essential site maintenance without spending vital funds.
There is an indoor meeting space which also provides the opportunity to combine corporate volunteering with your meeting requirements on the same day.
Volunteering at our fundraising events and awareness days.
We hold events at our Training Centre in Leicestershire and we are at events and activities in other locations across the country throughout the year.  Volunteering to support events is a fantastic way for your staff to support our charity, helping to raise awareness and giving the opportunity to meet our dogs and other volunteers as well as the public.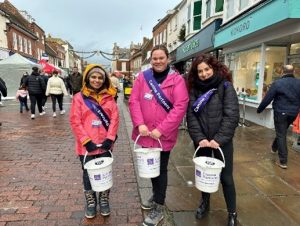 Interested?
To find out more about our corporate partnerships please contact David Watson, Corporate Relationship Manager by emailing davidw@caninepartners.org.uk or call 03456 580 480