Nominate us as your Charity of the Year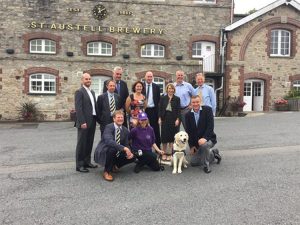 Nominate Canine Partners as your Charity of the Year to help us train more of our amazing dogs for people with physical disabilities in the UK.
Why support us
Canine Partners assists people with disabilities nationwide, to enjoy greater independence and quality of life through the provision of specially trained dogs. More than one million people in the UK use a wheelchair – with your help we can provide more assistance dogs to people with disabilities and transform their lives.
By partnering with us, you can make a difference to someone's life through the support of your staff and customers, and know that you have helped a small charity make a real difference.
What you get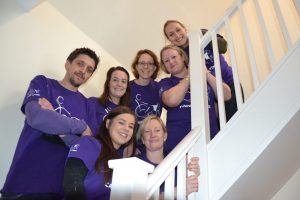 We can design a fantastic package to support your company's corporate social responsibility programme, including:
visits to our centres to meet our amazing dogs and puppies
PR support and fundraising guides so all your staff can get involved
possibly even presentations and demonstrations from our amazing dogs at your workplace
Challenge yourself
Encourage your staff to undertake a challenge for Canine Partners.
"Much of our charity partnership's success is due to the fact that Canine Partners were so 'hands on' throughout, which definitely helped to build a strong relationship with our colleagues and drive their fundraising activities."
Gemma Lacey, Head of Sustainability at the Southern Co-operative. This two-­year partnership raised over £500,000 for Canine Partners.
The difference you can make
£15 will feed a dog for a week whilst they are in training

£25 will equip a house with rope tug toys so our dogs can open all the doors
£30 will pay for a comfortable dog bed to rest in after a hard day's training
£50 will pay for a vet check to make sure all our dogs remain healthy
£100 helps to train a dog to unload a washing machine
£150 pays for the lead, collar, puppy crate and training toys for an eight week old puppy going home to their volunteer puppy parent
£5,000 will pay for the first year of puppy training, including all their classes, equipment, vet bills, food and insurance
£10,000 will fund all the training to get one of our puppies up to the point where they are fully trained and ready to be matched with their new owner
£20,000 will pay for the creation of a partnership and its support for life
Interested?
Contact us with any questions, for advice about fundraising for us, or becoming a corporate partner.