Nominate us as your Charity of the Year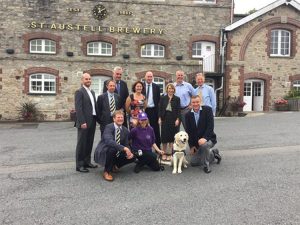 Nominate Canine Partners as your Charity of the Year to help us train more of our amazing dogs for people with physical disabilities in the UK.
Why support us
Canine Partners assists people with disabilities nationwide, to enjoy greater independence and quality of life through the provision of specially trained dogs. More than one million people in the UK use a wheelchair – with your help we can provide more assistance dogs to people with disabilities and transform their lives.
By partnering with us, you can make a difference to someone's life through the support of your staff and customers, and know that you have helped a small charity make a real difference.
What you get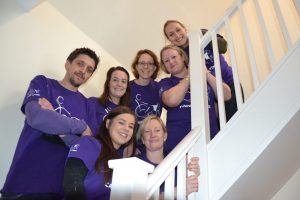 We can design a fantastic package to support your company's corporate social responsibility programme, including:
visits to our centres to meet our amazing dogs and puppies
PR support and fundraising guides so all your staff can get involved
possibly even presentations and demonstrations from our amazing dogs at your workplace
Challenge yourself
Encourage your staff to undertake a challenge for Canine Partners.
"Much of our charity partnership's success is due to the fact that Canine Partners were so 'hands on' throughout, which definitely helped to build a strong relationship with our colleagues and drive their fundraising activities."
Gemma Lacey, Head of Sustainability at the Southern Co-operative. This two-­year partnership raised over £500,000 for Canine Partners.
For every £1 you donate
83p is spent on
carefully selecting our puppies
specialist training to become assistance dogs
assessing hundreds of potential applicants on our waiting list
supporting partnerships across the UK and in future
governance
17p is spent on
fundraising and generating awareness
The difference you can make:
£25 will help pay for ongoing support and a 24 hour hotline for our partnerships
£50 will help provide a week of care and training for a dog living on site during advanced training
£100 will pay for dog food and insurance for a dog whilst in advanced training
£350 will pay for essential equipment for a puppy starter pack
£1,000 will pay for the recruitment of a puppy onto our training programme
£6,500 will pay for the first year of puppy training including all their classes, home visits, equipment, vet bills, food, insurance and transport
£10,000 will pay for the aftercare of one partnership including ongoing regular home visits, telephone support and advice from our network of aftercare assistants for the working lifetime of the partnerships
£30,000 will pay the full costs for a partnership, from recruitment of a puppy until retirement.
Interested?
Contact us with any questions, for advice about fundraising for us, or becoming a corporate partner.