The Equality Act and Assistance/Guide Dogs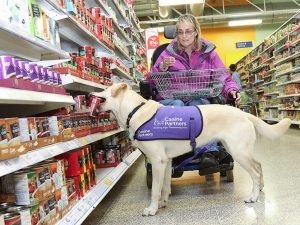 It's important that everyone understands the legal rights of people with disabilities (and their assistance/guide dogs) to ensure that they are treated equally, fairly, and without discrimination.
This is essential to our work within the wider community, building understanding and acceptance of the role of working dogs.
Assistance/Guide dog owners have important rights under the 2010 Equality Act (EA). This law allows people with disabilities to have the same rights as everyone else to use the services supplied by shops, banks, hotels, libraries, pubs, taxis and restaurants.
An example of key legislation within the Equality Act is that it is illegal for assistance/guide dog owners to be refused access to a taxi or minicab with their dog. However, medical exemptions are available to drivers who obtain a certificate from their GP explaining why they cannot be near a dog.
Service providers must also make reasonable adjustments for assistance/guide dog owners. In 2004 the law was extended to state that service providers must consider making changes to "physical features" which make it unreasonably difficult for disabled people to use their services.
To find out more about The Equality Act and what it includes, visit the Assistance Dogs UK site.