Meet Welly, sponsored by David Wilson Homes
Posted 1 year ago in the A big thank you, Corporate supporters categories
Earlier this year the quality housebuilder, David Wilson Homes, signed up to become a strategic partner, bringing vital funds, specialist expertise and volunteering time to support our Midlands Training Centre in particular.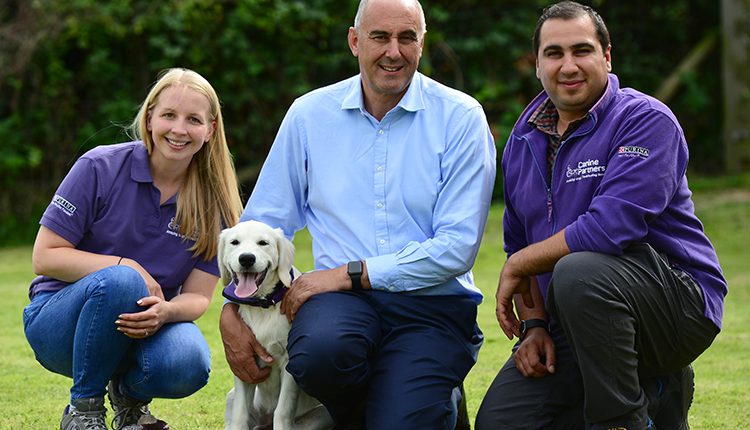 David Wilson Homes is based in Coalville, Leicestershire, and is part of Barratt Developments Plc. The company has kindly donated £50,000 to sponsor the costs of one of our assistance dogs from puppy to partnership and to further develop the site. 
In recognition of this investment, we have named one of our puppies-in-training Wellington, or 'Welly' as he is affectionately known, after the Golden Retriever in the company's own logo.
Richard Brooke, Regional Managing Director at David Wilson Homes, said:
"We are thrilled to be able to support Canine Partners with our donation and are already enjoying hearing the progress our puppy, Wellington, is making.
This well-deserving charity works tirelessly to provide disabled people with more independence and a better quality of life by giving them an assistance dog, and we are proud to be getting behind such a worthy cause. We are delighted to be able to support Canine Partners as they are a fantastic organisation.
We want to lead the industry not just in the quality of the homes and developments we build, but also in our work with charities and good causes throughout the UK."
Puppy Wellington is currently living with his puppy parents in the Derby area and has begun the first steps of his training to become a canine partner.
David Wilson Homes is not only supporting the new kennel build but John Reddington, Managing Director of David Wilson Homes East Midlands, is organizing a large team of volunteers to help with the landscaping and other projects to develop the site and improve access.
We look forward to working together through 2020 and beyond.
Could your company support us?
Whether it's as charity of the year, volunteering at events or giving a gift in kind, you can find out how your company can support Canine Partners on our Corporate Support page.
Help transform more lives