Meet Stephen and Geraldine, from Derbyshire
Posted 4 months ago in the Volunteers and fundraisers category
What does it take for a life to transform? It starts with a puppy, adorable and warm.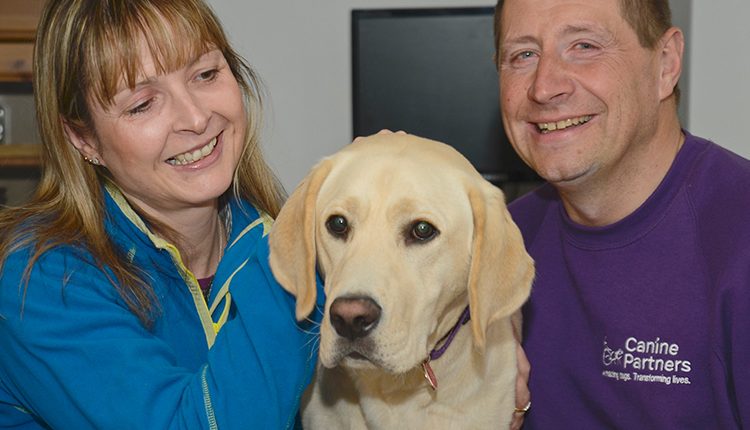 Stephen and Geraldine have been volunteer Puppy Parents for Canine Partners since November 2016. They are currently looking after their third puppy-in-training. This is their story:
"Our primary role within Canine Partners is as Puppy Parents but we are also core members of the East Midlands Community Group and Stephen is a trained Volunteer Speaker for the charity. We have been volunteering for Canine Partners since November 2016, when our first puppy arrived at just seven weeks old!
"As puppy parents our role requires us to provide early education and socialisation of the puppy in our care. We introduce the puppy to new environments, take them on all forms of public transport as well as introducing them to both town and rural surroundings. Our ultimate aim is for our puppy to be well behaved, friendly and able to adapt in all social aspects.
"We both enjoy going out and meeting different people, striking up a conversation whilst training our puppy or talking to groups such as the WI and other Social Clubs. It's great to be able to raise the awareness of Canine Partners in this way. Helping out with demonstration voice overs as part of the Volunteer Speaker role is a great opportunity to work with the demo dogs and their handlers at larger events.
"We both worked for a leading global Pharmaceutical company opting to take early retirement after a large reorganisation. We had talked about getting a pet dog and having visited some rescue centres, we both realised that perhaps this was not the best route for us as we wanted to give something more worthwhile back to a "dog" charity. A chance visit to Chatsworth Country show saw us walk past the Canine Partners stand.  After having a really good chat with both volunteers and meeting some of the dogs, we walked away knowing we had found ourselves a really great charity to help. This set the ball rolling for us and a couple of months later our first puppy arrived and we have never looked back.
"We really enjoy volunteering for the charity and being part of the wider family – it's nice to be able to draw on past career experiences to help Canine Partners. We always look forward to being able to make a positive input and to help the charity increase its awareness.
"The most rewarding aspect of being a puppy parent, is seeing your puppy grow from eight  weeks into a fully trained, working assistance dog – transforming the life of the partner! It's hard to put into words how proud you feel and the sense of achievement, knowing that all your hard work and effort has completely changed a person's life.
"We would have no hesitation in recommending Canine Partners to anyone if they are looking for a volunteer role. Whether being a Puppy Parent or helping out at an event, you will always get a warm welcome, meet lots of lovely people and have a huge support network behind you."
What does it take for a life to transform? It starts with a puppy, adorable and warm. Could you love and care for the UK's future assistance dogs? Please visit caninepartners.org.uk/puppy-parents to find out more.
Help transform more lives