The Big Give Christmas Challenge 2023
One donation, twice the impact

The Big Give is a matching funding campaign that, simply put, is a Generosity Multiplier and will enable you to DOUBLE your donation!
The Big Give 2023 is running from 28 November until 5 December during this time any donations made to Canine Partners through The Big Give website will be DOUBLED.
Donate now
Doubling donations during the week of The Big Give means that we can help around 100 people on our waiting list get their canine partner as soon as possible. Below is a video showing Stephen's story and how your money can help.
Life without Kizzie has been really challenging. I really miss her. While I am grateful for my care team, I miss the independence that having a canine partner provided.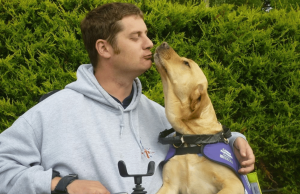 – Stephen, who is currently on the waiting list for his third life-changing canine partner.
Our waiting list is currently CLOSED due to high demand. By donating to our winter appeal, you'll provide hope to around 100 people on our waiting list, like Stephen, and those waiting to apply.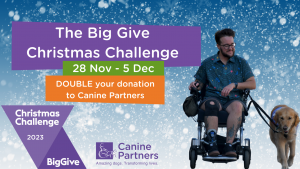 Donate now!
Please fill in the below form if you wish to receive a reminder email about the Big Give:
Register your interest or ask us a question.