Games Night at Canine Partners! – SOLD OUT
Osgathorpe
Friday 24 November 2017
This event is now sold out.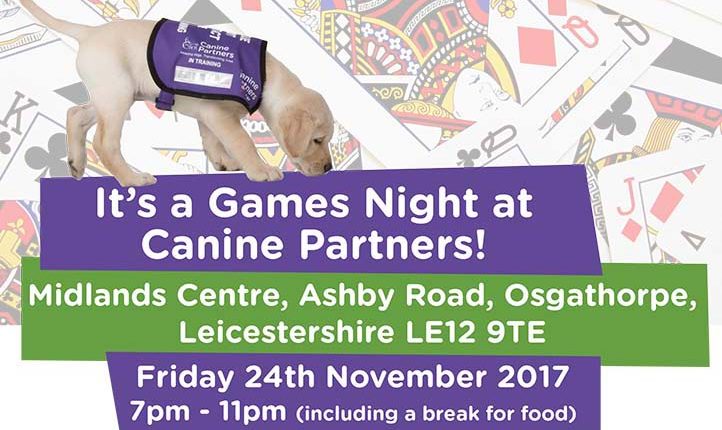 **Please note: This event is now SOLD OUT**
Join us at our Midlands Centre for a night of fun and games, with top prizes up for grabs!
The night will include Bingo, races, Family Fortune and Play Your Cards Right. Play games to collect raffle tickets which will enter you into the chance of winning fantastic prizes. The more you collect, the better chance you have of winning! Winners will be drawn at the end of the evening.
Entrance to games will be sold separately on the night, for more information please contact Julie Lawrence using the details below.
There will also be a pay bar for refreshments throughout the evening.
Date: Friday 24 November, 2017
Time: 7pm-11pm (including a break for food)
Location: Canine Partners Midlands Centre, Ashby Road, Osgathorpe, Leicestershire, LE12 9TE
Ticket information: SOLD OUT. £5 per person (includes a jacket potato and soft drink). Please note that this is an advanced booking only event and that tickets must be booked by Wednesday 15 November.
Contact name: Julie Lawrence
Contact number: 01530 225945
Contact email: juliel@caninepartners.org.uk
Contact Us
Register your interest or ask us a question