Volunteer of the Month – Meet Event Volunteer Nick, from Leicestershire
Posted 1 month ago in the Volunteers and fundraisers category
Nick has been volunteering for Canine Partners for the past three years, after retiring in 2017. This is his story.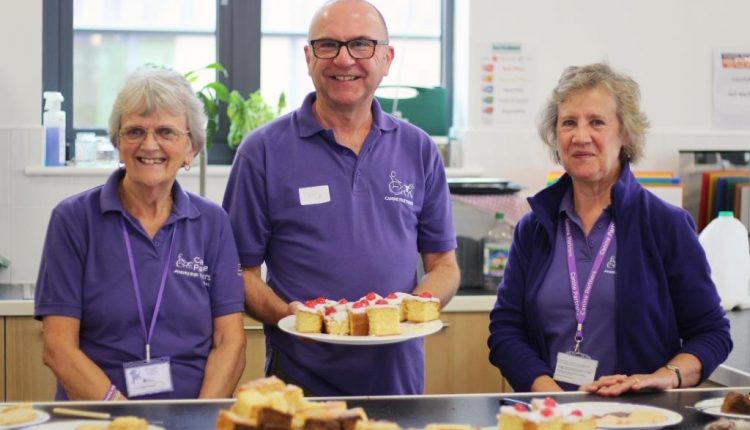 Nick retired from paid employment in 2017, and wanted to spend some of his time volunteering. Living just minutes down the road, he would pass the Canine Partners Midlands Training Centre almost every day but didn't know much about the Charity.
After attending one of the Canine Partners Information Sessions and seeing the amazing dogs in action, as well as hearing first-hand from Partners about how the dogs had changed their lives, he realised that he wanted to help, and to raise awareness of what the charity does.
Nick describes the various volunteer roles he has fulfilled for Canine Partners:
"I started working with Canine Partners as a Volunteer Speaker, giving talks to local community groups (schools, brownie packs, WIs, etc.). My wife and I have also done some Weekend Fostering of the dogs that are going through their Advanced Training and I have helped out with some of the administration work that needs to be done in the centre's offices. I am a retired Crisis Management consultant, so I have been supporting the Canine Partners Corporate team, as well as helping to make sure that the charity's own contingency plans and processes are a little bit more robust.
The area where I have done most work is as a volunteer at Canine Partner's events, both at the Midlands Training Centre and around the Midlands. This Event Volunteer role could involve anything from serving tea and cakes at one of their Afternoon Teas, presenting at one of the regular Information Sessions, helping with the plant crèche at RHS Chatsworth, or supporting fundraising stalls. Once you are registered as a volunteer you are kept informed of upcoming events and, if you're available, you can sign up to help."
Nick describes his experience of being a Canine Partners volunteer:
"It is incredibly rewarding to know that the work you do is helping to change the lives of people with disabilities. As an Event Volunteer you get to meet some lovely people, go to some interesting places, and spend time around some wonderful dogs.
I volunteer because it gives me the variety and flexibility that I enjoy. If you have some spare time, no matter how much or how little, it is a rewarding and fun way to make a real contribution to a fantastic charity. Did I mention that, as a Canine Partners volunteer, you get to spend some time around some wonderful dogs?"
Become a volunteer for Canine Partners during our 30th anniversary year:
There are lots of ways you can volunteer for Canine Partners during our 30th year. To find out more, please visit caninepartners.org.uk/volunteering
Help transform more lives