Team Remus take on the Glasgow Kiltwalk to raise over £800: Zoe's Fundraising Story
Posted 1 year ago in the Volunteers and fundraisers category
Partner Zoe Maclean and the rest of Team Remus take on the Glasgow Kiltwalk 2019 to raise over £800.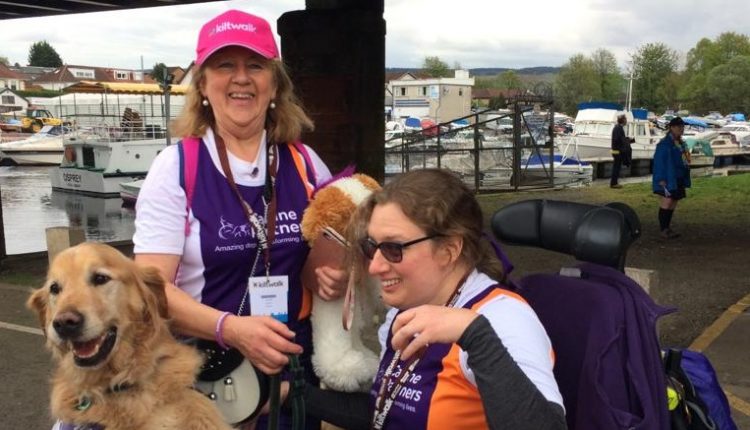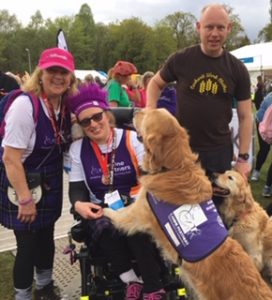 Zoe Maclean was partnered with Remus in April 2011, and the pair have had a number of exciting adventures including being part of the Queen's baton relay before Glasgow's staging of the Commonwealth Games in 2014.
On 28 April 2019, 34-year-old Zoe from Fairlie, Scotland and her mum Barbara, along with family friend Frances took on the Glasgow Kiltwalk. Their goal was to raise vital funds so that more people can benefit from a life-transforming canine partner like Remus. Here is Zoe's fundraising story:
I was very keen to support Canine Partners in doing this challenge as I have Remus who is my canine partner. I was partnered with Remus in April 2011 and he has been by my side ever since.
He has helped me gain so much confidence and self-belief. He really has transformed my life beyond belief. I would be lost without him. I am so grateful to Canine Partners.
I have participated in and helped to organise a number of events for Canine Partners in the past, however, this time I wanted to take on a more personal challenge to say thank you to Remus and to Canine Partners.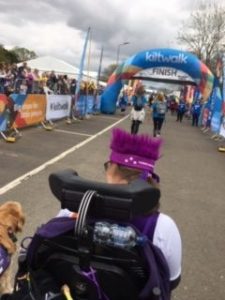 I decided to take part in the Glasgow Kiltwalk 2019 alongside my mum Barbara and our friend Frances. Together we formed Team Remus. Remus even joined us for the last section of the walk so we could cross the finish line together!
We are still collecting some of the money but so far we have raised a total of £882.90. I know that whatever amount of money is raised will help Canine Partners towards achieving their mission of training amazing assistance dogs.
My hope is that Team Remus can raise enough to purchase a puppy to help transform the life of another disabled person as Remus has done for me.
A huge thank you to Team Remus from everybody at Canine Partners for their fabulous fundraising.
Would you like to raise life-changing funds?
We need your help. From taking on a challenge to baking cakes, there are plenty of ways to help raise vital funds. Visit our Fundraising page for inspiration >
Help transform more lives