Meet Rachel, volunteer Fosterer from Loughborough
Posted 10 months ago in the Volunteers and fundraisers category
Are you wondering how you can support our mission at Canine Partners? Read Rachel's journey as a Volunteer Fosterer.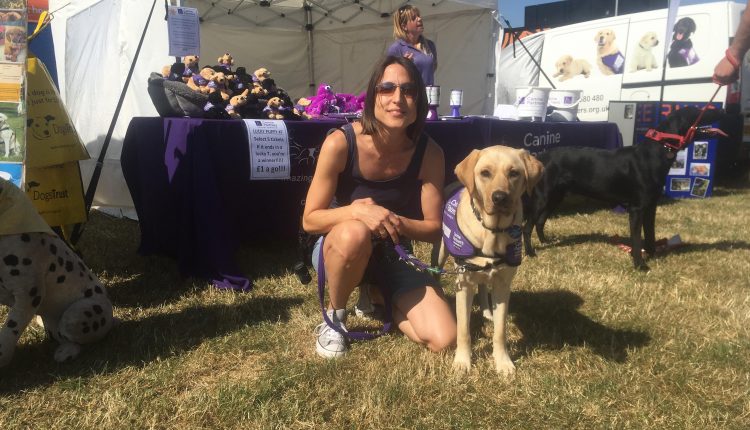 Rachel, a mum-of-two, is a volunteer Fosterer for Canine Partners, who is currently fostering her 19th dog, David. This is her story:
I have been volunteering as an overnight (B&B) Fosterer since 2016. David has been with us full time since 23 March 2019, when we first went into lockdown due to the Covid-19 pandemic. During this last year he has been into the centre on a few occasions when needed but now he has completed his training and is ready to go to his partner when restrictions allow. Despite not having that face-to-face contact on a regular basis, we have still been fully supported by the Advanced Trainers with any issues we may have, items we need for David and any training they have wanted us to work on at home.
I decided to volunteer as we lost our wonderful black Labrador, Murphy, back in 2014. He was 16 years old and left a huge hole in our family. We were devastated and said we could never put ourselves through that type of loss again. However, a couple of years on we desperately missed having a dog around but still didn't feel we were ready to commit to having another dog of our own. We have a busy work and family life, so we aren't in a position to have our own dog.
We researched Canine Partners and the amazing work they did, which led to us learning that they needed volunteers to foster their incredible dogs in training. For us this was an easy decision, we got our dog fix without the full-time commitment and at the same time we could help a charity we believed in. As they say, the rest is history!
I continue to volunteer as an overnight Fosterer because of all the amazing dogs we get to look after. They all have their own personalities and traits; it's been a wonderful journey that we have had with all of them. It's also the knowing that what we are doing is helping to change people's lives for the better.
Being a Fosterer is exciting and rewarding. We have learnt so much from the fantastic trainers and met some wonderful people. Sometimes, it can be hard work depending on the dog you have but the rewards far outweigh any problems.
We always start off the day with a cuddle, then it's out for a 'better go now' before breakfast. 'Better go now' is the command for the dogs to go to the toilet. Most dogs just fit in with you as you go about your day; they follow you about to see what you are up to or just chill out on their bed. If it's a working day for the dog, then we drop them off at the Midlands Training Centre near Osgathorpe, Leicestershire, and pick them up at the end of the day. They then come back home for playtime, dinner and to just chill out. When they're with us it's their time to rest and recuperate, we don't do any training with them.
Being a Fosterer is one of the most rewarding things I have ever done. To watch the dog grow and develop over the 17 weeks they are with us is fantastic, and to think that you have played a part in that is very humbling.
There are lots of things I find rewarding about being a Fosterer, but probably the most rewarding is when we meet the dog again at a 'Partnership Ceremony'. This is where you go to celebrate the partnership about a year after the dog goes home with their human partner. The partner usually says some words and you get to meet them too. To see the bond between the dog and the partner, and to hear the partner's story of how the dog has transformed their life, is enough to bring a tear to anyone's eye.
Other's should sign up to be a volunteer overnight Fosterer because if you love dogs then this is one of the most amazing and rewarding things you will ever do.
There is no cost to you, you get all the enjoyment of a dog and you get to be a part of changing someone's life forever.
You need to listen and follow the advice of from the Advanced Trainers, as they are amazing people who know what is expected from a canine partner for them to succeed. Also, do not expect that you will get a perfect dog to look after. Although they are being trained as an assistance dog, they are still dogs, they are still young and they are still learning. Be patient with them, praise them for good behaviour, and above all – enjoy them.
Would you like to experience the wonders of looking after one of our dogs in Advanced Training who will go on to help transform the life of a disabled person? Find out more at caninepartners.org/foster.
Help transform more lives