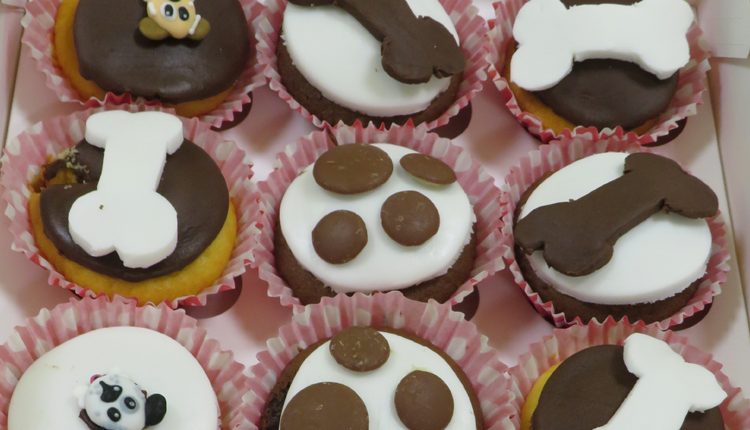 Derby High School had a very busy day raising over £1100 with a host of fun activities for students and staff.
On Friday 10 March, Derby High School held a number of events throughout the day to raise much needed funds for us to train more amazing assistance dogs.
It all started with a non-uniform day where students were asked to wear purple and donate £1 – but the purple theme didn't stop there. The school's music teacher, Mrs Soutar, also organised a very purple raffle with the top prize of a huge basket filled with purple goodies include Ribena, chocolate, a cuddly toy, a notebook and much more. The raffle alone raised an amazing £370!
On top of this, there was a bake-off with the Key Stage 1 and Key Stage 2 students, with 90 children donning their aprons to bake cakes, cupcakes, tray bakes, biscuits and even dog treats. There were six judges, including Heather and Steve from Canine Partners as well as dogs Usha and Quey on hand to choose the winners. Prizes were kindly donated by Marion from Patchwork Cutters.
With the cakes being sold off at the end of the day with a cake sale, that was another fantastic £400 raised. Even more money was raised through the sales of pin badges and keyrings.
Year Five teacher Sara Evans-Bolger said about organising the event:
"It was quite a lot of work organising the logistics mainly, but it was completely worth it. Seeing the wonderful purple colour scheme, the amazing bakes, and the look on the children's faces when Quey and Usha came on to the playground made the whole thing totally worthwhile! I'm so proud of everyone who helped us raise such a fantastic amount".
Sara, who has also rehomed two canine partners dogs told us that the school chose the charity for there Lent fundraiser after she suggested us to the students. She originally heard about our work through her friendship with our Midlands Centre advanced trainer Cat Howourth. On why the school chose Canine Partners, Sara said:
"Seeing the impact these amazingly talented dogs can have on the lives of people with disabilities is just incredible, to give people their confidence, independence and sparkle back is just so very special."
A huge thank you and well done to all of the staff and students at Derby High School for their fantastic fundraising effort. All of the money raised will go towards transforming the lives of people with disabilities.
Want Canine Partners to visit your school?
Canine Partners has more than 150 volunteer speakers we can visit your school, college, university or youth group to give talks and presentations on the work we do to transform the lives of people with physical disabilities. Each volunteer is trained to give talks to smaller groups within a classroom setting, as well as to larger groups in assemblies. In some cases, we may even be able to bring along one of our amazing dogs.
To find out more, or to request an educational speaker, visit our Schools and Education section.
Help transform more lives