Meet Paul and Ralph
Posted 1 year ago in the Impact series, Our partnerships categories
Paul has a spinal cord injury and was partnered with Ralph in October 2016. Read their life-changing story.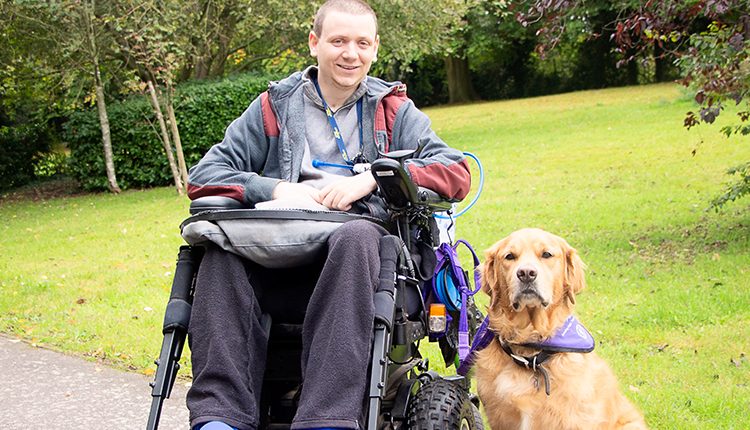 Paul was partnered with canine partner Ralph in October 2016. This is his story:
I was an ordinary 20-year-old lad enjoying my life and working in my dream job with a kitchen fitting company. I had a long-term girlfriend and a wide range of friends.
On the 10th November 2012 my life changed forever. I was driving my new car late at night when I crashed and broke my neck. I spent two long months in intensive care, fighting for my life. When my family spoke to the doctors they were told I have a high-level spinal cord injury and would be paralysed from my neck down.
Once I was finally well enough to be moved out of intensive care I spent another seven months in the Royal National Orthopaedic Hospital in Stanmore getting specialist care and learning how to live with my injuries. I was taken off heavy medication and was beginning to learn to breathe without a ventilator when I started to get movement back in my left arm. Eventually, after a lot of physiotherapy, occupational therapy and hard work I was able to move both my other arm, but I cannot use my hands. However, with good control of my left wrist, I have learnt to use my finger and thumb to pick up small objects and use a splint on my index finger to type on a phone or tablet. I now need 24 hour support from carers.
I also suffered severe depression due to the accident and life changes. The matron of the ward allowed my family's two pet dogs to come into the side room to see me in order to help my low mood. Our cockapoo would sit on my bed so I could stroke him. This would always brighten up my day. Some months later, on my 21st birthday in July 2013, I was discharged.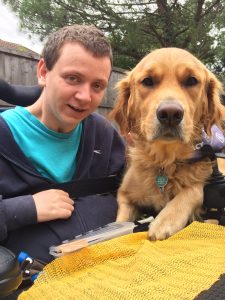 My life is now completely different. I now need 24-hour support from carers and have previously suffered from severe depression due to the accident.  I continued living with my parents whilst I got used to my new life, but I very quickly got bored as all my friends and family worked while I had nothing.
A year after coming home, I went on a multi-activities course in the Lake District with a charity that supports people with spinal injuries. During this course I was shown that my life wasn't over, as I once thought and there is still plenty I can do. I began volunteering, sailing, swimming and I also got a membership to watch Arsenal football matches. While at a football match I saw someone go past in a wheelchair with an assistance dog, which inspired me to do some research.
Visiting the Canine Partners website I read a partnership story about someone with a spinal cord injury and it was the motivation I needed to apply.
At an assessment day a few weeks later, I had a fantastic time meeting lots of different dogs and it convinced me even more that I would benefit from having one.  The team at Canine Partners worked hard to find the right match and when Ralph and I were introduced 18 months later there was an instant connection and I knew he was the dog for me.
Ralph is great fun to have around and he keeps me motivated. We practice tasks on daily basis and he made an immediate impact on my life. He presses an alarm that calls the carer if I need of help and can't call them myself.
He picks things up and gives them to me like my phone and finger splint. He takes my jacket off and my gloves in the winter and he helps remove my blankets if I get too hot at night. He also opens and closes doors for me on a daily basis and he sometimes presses the controller to my electronic assistive technology for me, turning on or off lights, fans, heaters and my TV and also helping me phone people if I need to. He can also get the post, he can find the TV controls or my wallet and he can press the button at traffic lights.
Now, I'm 27-years-old and I am pleased to be finally living an independent life again by living in my own flat since September 2017.
The location and the fact I have Ralph means I am able to go out and about completely on my own, including to the doctors and hospital appointments. We also have a massive field just a few minutes away, so in the summer I spend a lot of time there with him.
Having Ralph by my side has not only made me more independent, he has made me a lot healthier. Since having Ralph I am no longer anxious or in and out of hospital constantly. I don't know if it's the fresh air I'm getting or the fact I now have a purpose in life and someone else to worry about.
Visit caninepartners.org.uk/our-impact to read more life-changing stories and find out how our work impacts the lives of disabled people, their families and society.
Help transform more lives