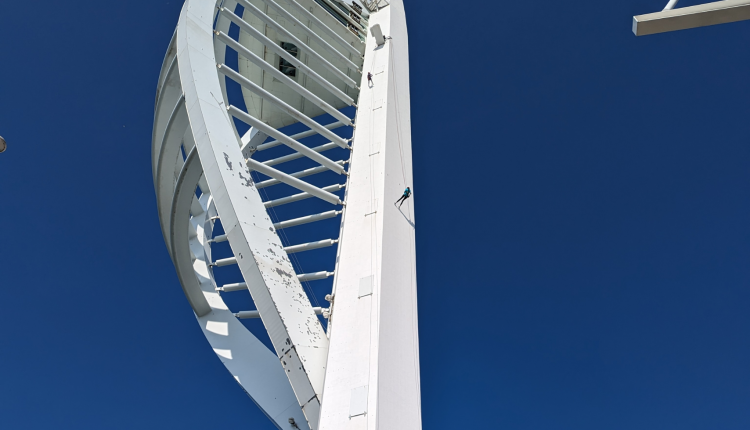 Abseiling down the Spinnaker Tower: Lorraine's fundraising story
65-year-old Lorraine, who lives in Fareham, abseiled 100m down the Spinnaker Tower to raise vital funds for Canine Partners. This is her story:
"It all started when we tragically lost our beloved eldest son, Michael, to a spinal injury. While Michael was fighting for his life in hospital, his wonderful friends set up a Just Giving page for him that raised more than £30,000.
"After the unthinkable happened and he passed away, we had to decide where the money raised would go. We split it between three charities: two of which were close to Michael's heart and the third being Canine Partners.
"After reading about the amazing work of the Canine Partners, I was staggered by the huge difference that a canine partner assistance dog can make to the life of a disabled person. Had Michael lived, he may well have eventually benefited from one of these incredible dogs.
"In 2018, I was delighted to visit the Southern Training Centre to see how the dogs are trained and we were honoured to have a puppy called Monti sponsored in Michael's name.
"This year, Michael and I would have reached a combined age of 100 – him 35 and me 65. I wanted to mark the occasion by doing something outrageous (outrageous for me, anyway!) for charity. My friend suggested abseiling down the Spinnaker Tower, but she didn't let me do it alone. Another close friend joined us, and we each raised money for our charities of choice.
"You asked about training – well, there wasn't any until we were hanging off the side of the tower! That's probably deliberate because it's too late to back out by then! Luckily, the weather was fabulous, so we didn't have to battle with wind or rain. We all managed to get to the bottom and, although it was undeniably scary at times, we thoroughly enjoyed the challenge.
"I started my fundraising with a target of £1000, which quickly raised to £1300. The fund currently stands at more than £2000! It has been an absolute pleasure to support this wonderful charity."
Could you fundraise for Canine Partners? To find out more and get inspiration for your next challenge, please visit caninepartners.org.uk/get-involved/fundraising
Help transform more lives