Top dogs have the chance to win prizes as a charity dog show returns to Bedfordshire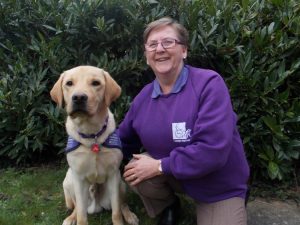 PAMPERED pooches and handsome hounds will be celebrated as a special dog show returns to Bedfordshire.
The Happy Dog dog show is back and it aims to raise hundreds for assistance dog charity Canine Partners.
The show comes as Happy Dog Training and Grooming celebrates its 20th anniversary.
The organisation is home to Canine Partners' Bedfordshire puppy training and fundraising group and hosts puppy training classes for the charity's trainee assistance dogs.
Dozens of dogs and dog lovers are expected to descend on the training centre in Bedford Road, Clapham from 11am-4pm on June 24 for the exciting event which will give Bedfordshire's top dogs a chance to go head to head to win a host of prizes.
A range of awards will be given including to the prettiest bitch, most handsome dog, best veteran, top vintage, best rescue and the pup with the waggiest tail as well as the winner of the agility course and the dog that is fastest at returning after a recall. There will also be a range of classes for pedigree breeds.
Meanwhile, there will be a barbecue, raffle, tombola and games.
Visitors will also have the chance to learn more about the charity and meet some of its puppies and people who are supported by their assistance dogs.
The dogs are trained to support physically disabled people with everyday tasks including picking up and fetching items, opening doors, dressing and undressing a person and they can even help use a washing machine, increasing someone's independence and confidence. They can also fetch help in an emergency which helps boost a person's sense of security.
The event comes as the charity continues its recruitment drive for more puppy parents – special volunteers who look after trainee assistance dogs during their first year and help with basic training, obedience and socialisation.
Puppy parent Carol Lloyd, who is currently looking after her 13th puppy Milo, helped organise the event.
The 56-year-old school cleaner from Wootton, Bedfordshire, said: "The dog show is lots of fun – there are always people there who want to talk to the dogs and people and the charity always gets lots of support. It's a huge team effort and a really nice atmosphere.
"Last year it helped raise around £1,500 for Canine Partners which will go towards training more assistance dogs like Milo who I'm looking after at the moment.
"I became a puppy parent because I liked the idea of having a dog but also having a purpose to it.
"Rather than having a pet dog we have a canine partner puppy and we know how the early training is going to benefit someone.
"It's a really nice way of having a dog. It's fantastic seeing the difference a dog makes to someone's life."
Lorraine Lotan, owner of Happy Dog Training and Grooming and Canine Partners trainer, added:
"Last year we celebrated 10 years of Canine Partners in Bedford with the arrival of our 100th puppy Pixie. This year we are celebrating 20 years of Happy Dog Training and Grooming which is an incredible achievement.
"I feel very fortunate to have worked with some amazing dogs, owners and handlers over the years and it would be great to see as many as possible at the dog show to help celebrate by having fun and raising much needed funds."
For details on the event, contact Jenny Wynd on 01933 35082.
For details on Happy Dog Training and Grooming, call Lorraine Lotan on 01234 365601 or 07721031007.
Or for more information about Canine Partners or volunteering opportunities call 0845 658 0480 or visit caninepartners.org.uk.