Scotland's cleverest pups are looking for special puppy parents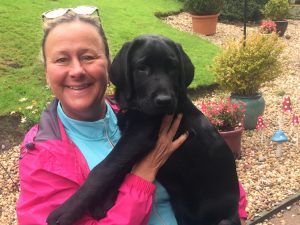 THEY will help with the housework, load a washing machine and open doors – but now the region's cleverest puppies are calling for your help.
Charity Canine Partners is looking for special volunteer 'puppy parents' that can look after puppies that are training to become assistance dogs for physically disabled people.
And they are hosting a puppy parties where residents can meet the puppies, watch demonstrations from existing puppy parents and their pups and speak to trainers and volunteers.
Residents are invited to join in the fun between 10.30am and 12.30pm at Currie Community Centre in Lanark Road West, Edinburgh on August 15 and at Rouken Glen Pavilion in Rouken Glen Road, Glasgow on August 16.
The charity hopes it will be puppy love as people sign up at the event to help look after the pups until they are about 12 to 14 months old and help with basic obedience and skills training, with support of Canine Partners' experienced puppy trainers.
The volunteers provide early socialisation, taking the puppy into different environments and introducing it to different people, objects and animals so that it is confident and happy in any situation it may encounter when it begins working with a disabled person.
Among the charity's newest puppy parents is former teacher Louise Miller who joined earlier this year after taking early retirement. She is currently looking after her first puppy, four-month-old black Labrador Yogi.
Yogi has already settled into the mum-of-four's home and become close friends with her pet miniature schnauzers, nine-year-old Dixie and 18-month-old Sonny Bill.
The 50-year-old mum-of-four from Bridge of Allan near Stirling said: "I applied to Canine Partners earlier this year as I had time on my hands and an interest in dogs.
"I'm particularly interested in assistance dogs and the difference they can make. I also have two autoimmune diseases, sarcoidosis and fibromyalgia so I may need one myself in the future.
"Being a puppy parent is a really interesting thing to do. I'm learning and it's very rewarding but it is a big commitment because you want to do a good job.
"We're an animal loving family and we're very happy to have Yogi – he fits in well.
"The fact that he will go on to improve a disabled person's life is also a huge motivation.
"People always ask how we can give the dogs up when they begin their advanced training but I'm looking at the bigger picture and trying to be selfless. He's going to be happy as a working dog."
Meanwhile, Marjorie Johnston is currently looking after her third puppy, Ursa, a six-month-old Labrador cross golden retriever.
The 60-year-old mum-of-three from Kilmarnock in East Ayrshire said: "I had been involved in the charity in other ways, but then I had a bit of time on my hands so decided to become a puppy parent.
"People say it must be hard giving the puppy up but you have to think about what they end up doing. When you see an active partnership it makes it all worthwhile.
"My puppy training group is friendly and a good community. We sometimes meet up outside our puppy training classes for a coffee together.
"It's very social and it's great to see the puppies' progress. It's fun taking them around the shops and introducing them to new things and places."
The recruitment drive comes as the growing charity aims to boost the number of volunteers so that it can meet an increasing demand for its dogs.
Canine Partners Scotland's puppy trainer Verity Bowell added: "It is vital that Canine Partners recruits more puppy parents so that we can help change the lives of more disabled people.
"Without these essential volunteers, we cannot train the numbers of dogs that are needed.
"By taking a puppy into their homes our volunteers know they can make an enormous difference and give someone back their independence."
Canine Partners currently has 30 active assistance dogs supporting disabled people across Scotland including those with fibromyalgia, MS, Ehlers-Danlos syndrome and cerebral palsy.
Puppy parents receive full ongoing support, both at their homes and at puppy training classes. Food, equipment, vet bills and temporary holiday care is provided.
For more information call 01730 716017 or visit caninepartners.org.uk/puppyparties.