Puppy Parent FAQs
Deciding to become a Puppy Parent volunteer for Canine Partners is an important decision, not to be made lightly.
To make that decision sensibly, we have answered some of the most frequently asked questions that people have before applying to be a Puppy Parent volunteer.
If you have any other questions or queries, use the contact form at the bottom of this page.
What is a Puppy Parent volunteer?
A Puppy Parent volunteer is someone who cares for and socialises a Canine Partners puppy and provides the early education that will enable it to succeed in advanced training and become an assistance dog.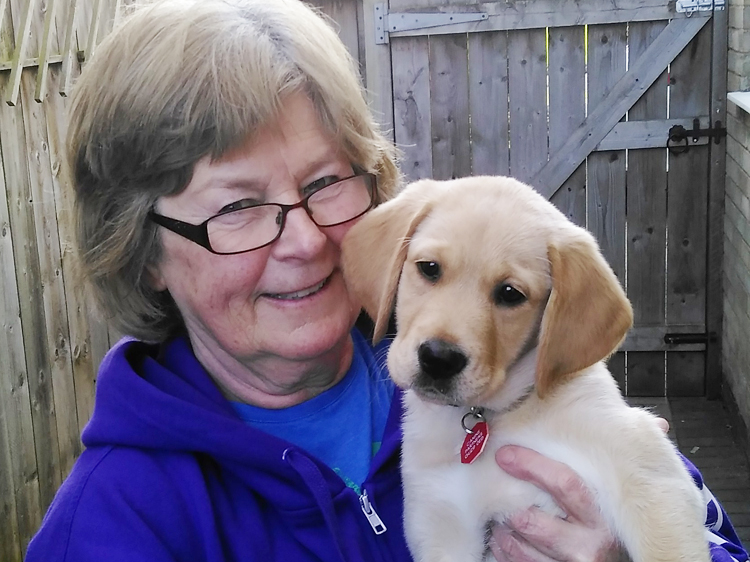 "By being a Puppy Parent volunteer, you meet a new group of like-minded people. You get great opportunities to socialise and seeing a puppy progress is fantastic."
Jacky Thomas, Puppy Parent volunteer in Hull
What does the role involve?
The most fundamental part of the role is giving a loving, safe and secure home for a puppy, where they learn as much as possible about how to behave around different types of people, in different situations, with different sights and smells. However, it also involves teaching basic commands and introducing the puppy to new environments including different forms of public transport, as well as towns and cities.
After 14-16 months, the Puppy Parent volunteer should have successfully socialised a puppy that behaves well and is both friendly and responsive to their handler. The puppy must also feel comfortable in all environments that they would be likely to visit with their future partner, such as a supermarket, and walks well on a lead.
Do I need to have experience in puppy training?
Previous experience with dogs is a bonus, but not compulsory. Our expert team are on hand to support you with advice and guidance every step of the way. You will also receive a Puppy Parent volunteer manual to refer to, and will be connected to other volunteers who can share their experiences too.
Has the Covid-19 pandemic affected how I would be supported by Canine Partners?
In the interests of keeping everyone safe and well at all times, we have adapted how we work with Puppy Parent volunteers and continue to review this as government guidelines change over time.  However, this doesn't mean that volunteers receive less support, it's just delivered in a different way.  So for example, it might mean meeting over Zoom instead of face to face.
For more information about how Canine Partners has adapted its ways of working during the Covid-19 pandemic, click here.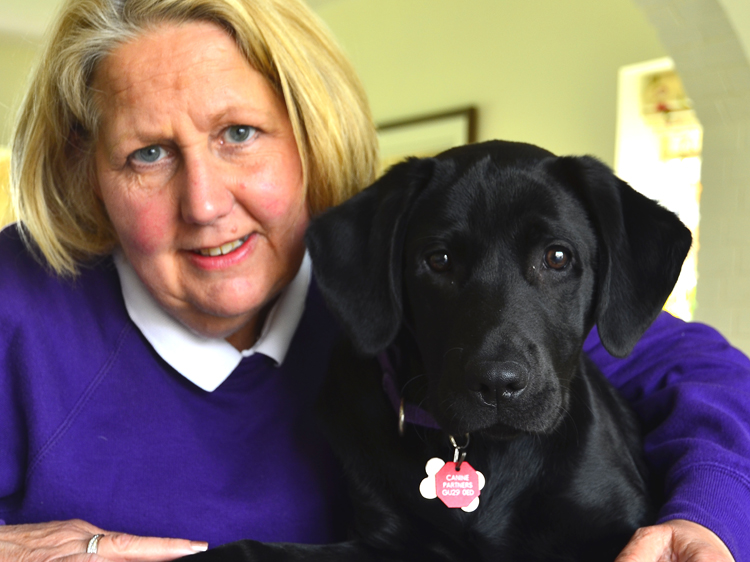 "We had never had a puppy before; we always had older rescue dogs, so it was also a nice opportunity to learn about puppy training."
Claire Cooper, puppy parent in Staffordshire
How long will I have the puppy for?
The puppy will be placed with you at 8 weeks of age and will be within your care for approximately 14 to 16 months, depending on things like the availability of Advanced Trainers to take the puppy onto their next stage of training.
Can I work part time and be a Puppy Parent volunteer at the same time?
We would ask you to demonstrate that you have enough time to be able to care, train and socialise the puppy, more details of which will be provided to you upon application. Please be aware that the puppy cannot be left for longer than three hours in one period.
Can I take the puppy to work with me?
This will depend on your working environment and also on the puppy as an individual. Our expert team will need to ensure that the puppy will be comfortable and safe, and that their training will not be affected.
Will the puppy live with me?
Yes, the puppy will live with you. If you are due to go away on holiday or there are any other reasons why you may not be able to care for the puppy for a fixed period of time, we may be able to arrange a temporary fosterer to care for them, however it could be distressing and confusing for the puppy if this were to occur soon after the puppy was placed.
How much will it cost me to have a Canine Partners puppy?
First time volunteers will receive a starter pack with everything they need to get going with the puppy.  In addition, Canine Partners will cover the costs of food and vet bills. We only ask that you cover the costs of any grooming equipment and you might like to give the puppy some toys to play with.  We do ask that you cover the costs of transport, however this is within your local area to allow you to socialise the puppy in new environments, to attend puppy training classes, and meet other Puppy Parent volunteers for support and fun!
Can I be a Puppy Parent volunteer if I have young children?
Many of our volunteers have young children or grandchildren, so this usually isn't an issue. We will assess each volunteer's circumstances individually.
Can I have a pet dog and also be a Puppy Parent volunteer?
Yes. However, the temperament of your pet dog will be assessed by one of our trainers. The puppy will need to be fed and walked separately to your pet dog to maintain their training successfully.
Are Canine Partners puppies allowed to be let off the lead to free run?
Once the puppy is old enough to be allowed off lead and has an effective recall, then this is encouraged 3 – 4 days a week. Our team will work with you to decide when the time is right.
How do volunteers cope when they hand the puppy on to advanced training?
All of our Puppy Parent volunteers form a bond with the puppy they have been looking after, having invested so much, and wanting the puppy to be the best they can be. As such, it can be tough to see the puppy move on to advanced training, however those who view it as a success because this is what the puppy is meant to do, find it easiest. Some have compared it to seeing their children go off to university, leaving home but continuing to grow and learn, so they can go on to be partnered, leading a rewarding and happy life in the service of someone with a disability.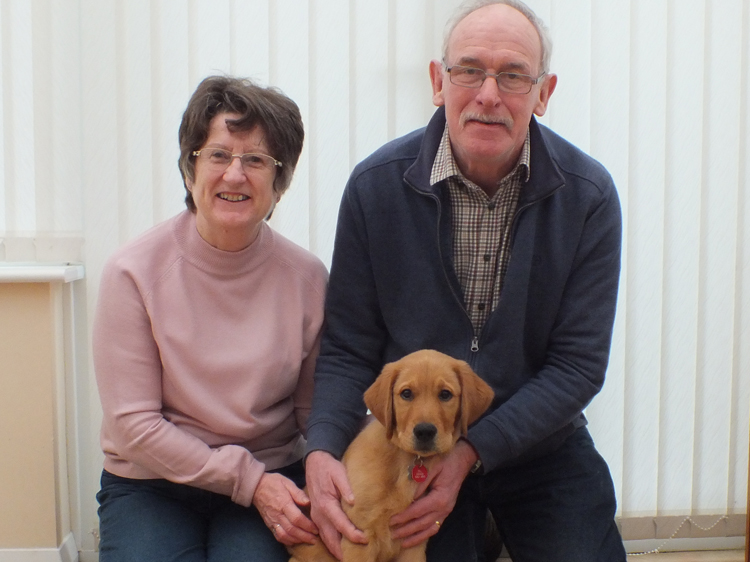 "It is upsetting when the dogs leave to start their advanced training but that's nothing when you see them working with their partner and know how much they have transformed their life."
Christine Louis, puppy parent in Goring-by-Sea
Will I see the puppy once they leave for formal training?
Once the puppy has entered formal advanced training, you will receive an update when they have passed their training, and when they has been partnered. It is then important that we leave it up to the discretion of the partner to decide whether to maintain contact, since it will depend on their own circumstances.
How much does a Canine Partners dog cost through its lifetime in training and service?
From puppy selection, through to training, the partnership and aftercare, costs £30,000 to Canine Partners for each dog.
What happens to the puppy if they don't reach the required standards to go on to advanced training?
This will depend on the circumstances, but generally, the puppy will be rehomed to someone on our rehoming waiting list. The puppy's needs and welfare will be paramount in deciding upon the best home for the puppy to go to.
Any other questions?
Get in touch with our Puppy Department who will be happy to help.