Did you watch our partnership Majid and Oxford on ITV's The Pet Show?
We hope you enjoyed watching our heartwarming partnership on ITV's The Pet Show.
Read more about Majid and Oxford's inspiring journey here.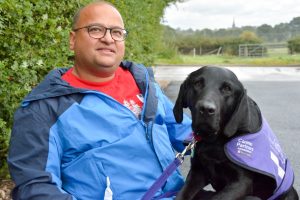 My life would look completely different if I didn't have Oxford. Living on my own, I wouldn't have any company but he's always there. He likes to let me know he's there and is always physically touching me in some way. He's very good.
He's had a huge impact on my confidence and independence. If it wasn't for him, I wouldn't go out of the house and I wouldn't be as active as I am now. Being active with MS is the secret to keeping your abilities working for longer."  Majid, Dumbarton.
Read Majid's story here.
Canine Partners is a national assistance dog charity that trains dogs to assist people with physical disabilities to enjoy a greater independence and quality of life. 
Learn more about our amazing dogs in the video below.
If you've been inspired by Majid and Oxford, sign up to our e-newsletter and donate today and help us create more incredible partnerships and transform more lives.