Meet Majid, from Dumbarton
Posted 8 months ago in the Our partnerships category
Majid has Multiple Sclerosis (MS) and was partnered with Labrador Oxford in February 2016. This is his story.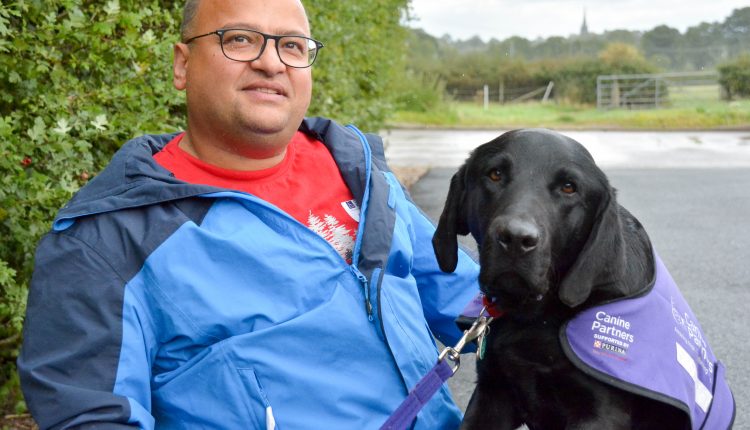 Majid has Multiple Sclerosis (MS) and was partnered with canine partner Oxford in February 2016. This is his story.
I have Multiple Sclerosis (MS) and my nerves have been affected by my own immune system. The part that protects the nerves has been damaged so the electric pulse takes too long to pass or doesn't pass at all if it is blocked. MS comes with many symptoms and you can't compare one MS patient with another, it depends on the areas that are affected in your brain and your nervous system.
It started with tingling and pins and needles, then it begun to affect my balance. In 2010 I was using one walking stick, which then progressed on to needing two. After four years my physiotherapist advised me to begin using a wheelchair. I fought against it, but eventually I was so tired and fatigued from dragging myself from one place to another that I gave in. I've now been in a wheelchair for almost four years.
Muscle spasms are my main symptom along with nervous impairment in different parts of my body from the chest down and in both my legs. My hands have also started getting numb now too. Another symptom of MS is cognitive problems; I have no problem talking but often I can't find the words to say. It takes a few seconds for me to get the words to come out of my mouth, so I can't express myself.
Fatigue is a huge part of MS and sometimes it's so debilitating I have to stay in bed all day. I sleep all day and yet I'm still able to go to sleep at night. Sometimes I will sleep for 16 to 18 hours at a time. It affects my diet as I can't get up to eat something. On my good days I feel like I can conquer the world, but my brain doesn't understand. Even after nine years, my brain still thinks I'm the old me and hasn't coordinated with my failing body.
In February 2010, after the symptoms begun when I was at work, I visited my GP and was in so much pain I couldn't even let him take my socks off. He asked me to walk in a straight line, but I was walking as if I was drunk. That shocked me. I was sent to hospital and from there it started to get worse. I was an able person and all of a sudden I found myself disabled.
I wasn't diagnosed properly until the 6 August 2010. I was living in limbo not knowing what was wrong. I had multiple X-Rays and MRI scans, showing multiple lesions to my brain and spine, but nobody was sure what was wrong. When I was given the diagnosis I felt a sense of relief, funnily enough, because the wait and not knowing was over.
I was working as a dialysis nurse in Glasgow at the time and studying for my master's degree in Bio Engineering. I was diagnosed just at the point of starting my dissertation. Finishing my degree was not a priority and I was off sick from work for a year. I then went back to work gradually, but I began to realise it wasn't safe for me or my patients for me to be working. I eventually retired on the grounds of ill health in 2012 and moved from Glasgow to a beautiful place near Loch Lomond, Dunbartonshire.
When my symptoms got worse I couldn't pick things up from the floor and I couldn't take my shoes off. Having a shower was tiring and the heat meant I needed to lie down afterwards to become functional again. It's so hard to get in a wheelchair after being able to walk; it changes your body image. What you have in your mind is different to what you see in your reflection in the wheelchair. Even now after so many years, it hits me again every time I see myself. I used to run, cycle, get in and out of a car and drive with no worries. Now I have to make sure I leave myself enough time to get in and out of the car. I have to think about pavements and steps, so I need to check places are accessible before I go there. It just makes me so tired. I didn't feel like I could go outside very much because I had no confidence when I was by myself in my wheelchair.
Discovering Canine Partners
My physiotherapist suggested an assistance dog would be helpful for me and that's when I came across Canine Partners. It took 19 months for me to be partnered. I can't remember my life before Oxford. He's changed my life for the better. It's like being the complete package; me and Oxford. I am much more confident with him by my side and I feel whole again. I can now go out and go to different places as being with Oxford gives me the confidence to.
Life with Oxford
Oxford allows me to get out of the house much more often, if it wasn't for him I would just be at home. I go sailing and to places I've never been to, I'm more outdoorsy than I was before. Because of him, I managed to get a grant from the MS Society and with their help I bought a hand cycle. If the weather is good we go for a cycle for a mile and a half every day to a green area where he can have a free run and a play. He can even go for a swim as the park is quite close to the loch. He has a smile on his face all year round, no matter what the weather is! It's a wonderful place to live with a dog, I'm so lucky.
The locals are so friendly and always say hello. Having Oxford opens a door to talk to people, as they don't know how to act and worry about political correctness. Now it's not about me, it's about Oxford. It's lovely to be able to talk to people, which I couldn't even do before I was in a wheelchair.
MS is progressive, so I was more able when I was first partnered with Oxford than I am now. At the beginning it was all about getting him to pick up where I lacked ability and he was learning the things that I couldn't do, like picking things up off the floor. Now it's more practical and I'm much more dependent on Oxford now. When I get home I'm so tired I can't even pick up my leg properly. I live on my own, so there is no one to help me other than a carer who comes over three times a week. As I don't have someone standing by me to take care of the small things all the time, it makes it even more important that Oxford is always there and is always happy to help.
He can take my gloves, shoes and trousers off. He pushes buttons and opens doors. In the supermarket he can get things from low shelves for me and he will give my wallet to the cashier. He gets my mail when the postman comes and will bring it to me. If I transfer from my wheelchair to the couch it will then take me about five minutes to get back in my wheelchair if anything happens, so if someone comes to the door, Oxford will go and open it for me. If the telephone rings he'll get it and he'll go outside to get my front door key out the door if I forget it, which I often do. His task work is amazing and is all done on autopilot, no matter where we are.
My life would look completely different if I didn't have Oxford. Living on my own, I wouldn't have any company but he's always there. He likes to let me know he's there and is always physically touching me in some way. He's very good.
He's had a huge impact on my confidence and independence. If it wasn't for him, I wouldn't go out of the house and I wouldn't be as active as I am now. Being active with MS is the secret to keeping your abilities working for longer.
I can't imagine my life without Oxford. I can't thank the people who brought him up enough. The whole organisation is amazing. Every single person I've met from Canine Partners are absolute angels. They are so selfless. It's just unbelievable how so many good people can do so much for such a good cause.
Have you been inspired by Majid and Oxford's story? You can help us create more life-changing partnerships by donating today at caninepartners.org.uk/donate 
Help transform more lives