Meet overnight fosterer Rachel from Loughborough
Posted 10 months ago in the Volunteers and fundraisers category
Rachel, a mum-of-two, is a volunteer overnight (B&B) fosterer for Canine Partners.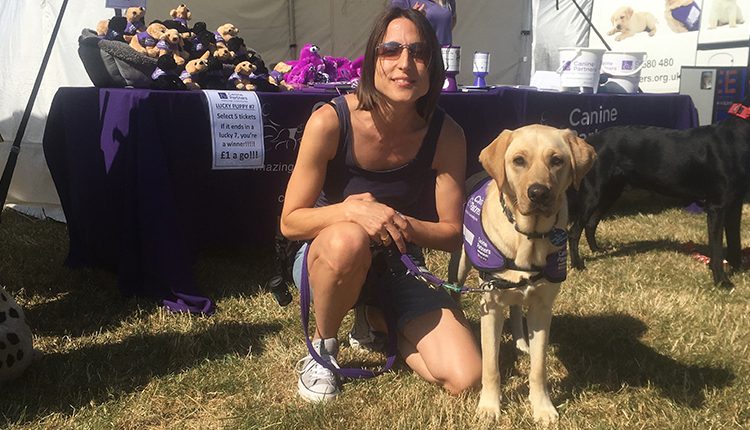 New kennels are currently being built at our Midlands Training Centre near Osgathorpe, Leicestershire, meaning our dogs-in-training need to go to local foster homes each night while the building work is completed. The dogs are about 14 months old when they begin their advanced training, and we urgently need bed and breakfast fosterers to take on this rewarding role and to play an important part in contributing to transforming the life of someone living with physical disabilities.
Here is Rachel's story. She is a volunteer B&B fosterer who has just finished fostering her 14th dog, Johnnie.
Rachel has been volunteering as an overnight (B&B) fosterer since 2016, and has just finished fostering Johnnie, an 18-month-old Labrador x Golden Retriever. Fosterers typically tend to foster the same dog for a full 17 weeks during their advanced training, to ensure the dog has some continuity, familiarity and is settled.
One of the reasons that Rachel decided to volunteer was the loss of her wonderful black Labrador, Murphy, back in 2014. He was 16 years old and left a huge hole in their family. Rachel said:
"We were devastated and said we could never put ourselves through that type of loss again. However, a couple of years on we desperately missed having a dog around but still didn't feel we were ready to commit to having another dog of our own. We have a busy work and family life, so we aren't in a position to have our own dog. We researched Canine Partners and the amazing work they did, which led to us learning that they needed volunteers to foster their incredible dogs in training. For us this was an easy decision, we got our dog fix without the full-time commitment and at the same time we could help a charity we believed in. As they say, the rest is history!"
On describing a typical day as a B&B fosterer, Rachel said:
"Most dogs just fit in with you as you go about your day; they follow you about to see what you are up to or just chill out on their bed. If it's a working day for the dog, then we drop them off at the Midlands Training Centre in the morning and pick them up at the end of the day. They then come back home for playtime, dinner and to just chill out. When they're with us it's their time to rest and recuperate, we don't do any training with them."
Rachel describes her experience as a fosterer as "One of the most rewarding things I have ever done. To watch the dog grow and develop over the 17 weeks they are with us is fantastic, and to think that you have played a part in that is very humbling. We have learnt so much from the fantastic trainers and met some wonderful people."
Become a B&B fosterer like Rachel
B&B fosterers must live close to the Midlands Training Centre and, preferably, be able to drop their foster dog off every morning and pick them up in the evening. Our other requirements are that you must be aged 18 or over, have a secure garden, have suitable transport and, preferably, be able to commit to caring for a dog for the duration of their 17-week training program. You will also need to have the stamina to manage an active dog. All equipment, such as beds, bowls, toys and food, will be provided by the Charity.
To find out more about becoming a B&B fosterer, please email fostermidlands2@caninepartners.org.uk or visit caninepartners.org.uk/fosterparents/ for more information.
Help transform more lives