Volunteer of the Month – Meet Community Group Member Sarah, from Kent
Posted 2 weeks ago in the Volunteers and fundraisers category
Sarah is a volunteer Area Coordinator for Canine Partners. This is her story.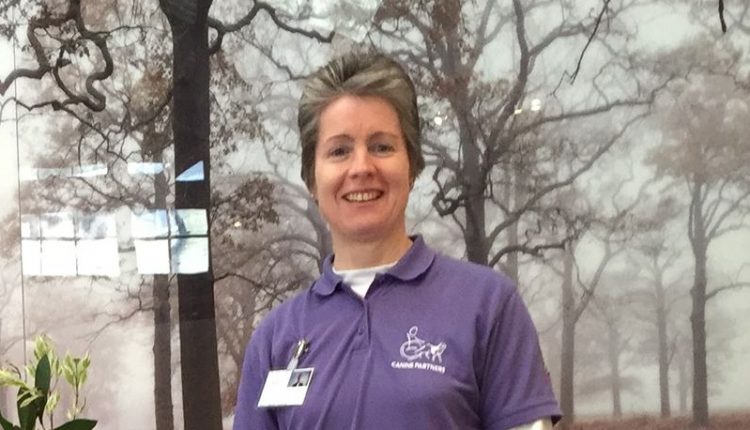 Sarah has been volunteering as a Community Group Member in Kent since 2013, highlighting Canine Partners to as many local people and organisations as possible, generating funds and fundraising opportunities, and engaging with and supporting Partnerships in the local area.
Sarah describes how she became involved with Canine Partners:
"From quite an early age I recognised how much animals simply take you for who you are
regardless of what you look like, and how comforting it was during difficult or upsetting times to
have the company of a soft and furry pet to stroke which can relax and calm you just with a look
or a manner such as a lick or soft paw on your hand. I wanted to devote more of my time and my professional business and commercial skills to assisting a charity which focussed on enabling people through the provision of specially trained animals.
I had not come across Canine Partners before, but my research showed I could sensibly get to
the Southern Training Centre, so I visited an event at Canary Wharf to see at a distance the charity in action, and to chat to staff, volunteers and Partnerships. I was hugely impressed, so
introduced myself, and later agreed to help on a voluntary basis alongside work."
Sarah describes what her role as a Community Group Member involves:
"My role is varied and encompasses many things, including arranging, promoting and running local events, maintaining and organising branded merchandise, organising and delivering talks to local groups, arranging collection tins, and liaising with local businesses to generate fundraising opportunities.
Whatever your interest, ability, skill or amount of time there is something for everyone to do
wherever you live, which will contribute towards creating more life changing partnerships. Even if you are allergic to dogs, there is so much required 'behind the scenes' which can be done
from home or travelling around without coming into contact with any of the dogs in training or
partnerships – from collecting stamps and coins to identifying sources of revenue, to delivering
and collecting in donation tins to doing something you enjoy, from cooking to sewing to running,
while raising money for Canine Partners.
The more volunteers Canine Partners have to carry out the wide range of tasks needed across
the country all year round, the more those at the Training Centres can focus on the
strategic matters, high profile connections and essential training, so the more monies and time
can go towards training more dogs to transform more lives."
Sarah describes her experience of being a Canine Partners volunteer:
"As well as volunteering taking over my life and speeding up the volume of natural silver tints in my
hair(!), it has humbled me and enriched my life given the range of amazing people and animals it has
brought me into contact with and I have had the privilege to meet.
The most rewarding thing about volunteering for Canine Partners is knowing that your time, effort and any frustrations along the way are all going towards providing a lifeline for disabled individuals and enabling them and their families to have their lives changed so positively. This could be something I, any member of my family, or anyone I know, could need in the future as our lives can change so dramatically in an instant."
Become a volunteer for Canine Partners during our 30th anniversary year:
There are lots of ways you can volunteer for Canine Partners during our 30th year. To find out more, please visit caninepartners.org.uk/volunteering
Help transform more lives