Trekking 500 miles across northern Spain to change lives: Tim's Fundraising Story
Posted 12 months ago in the Challenges category
Tim Scott from Pembury in Kent is preparing to take on Camino de Santiago de Compostela, a 500-mile trek across northern Spain. Here is his fundraising story...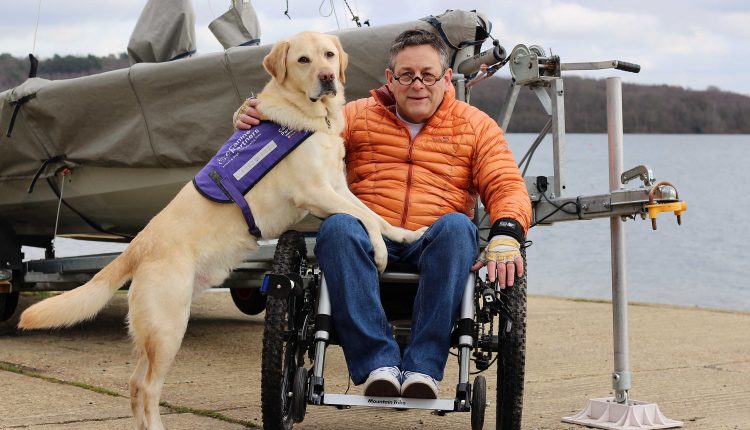 Tim Scott from Pembury in Kent is preparing to take on Camino de Santiago de Compostela, a 500-mile trek across northern Spain to raise vital funds for the charity that provided him with his assistance dog, Elliott. Tim is a 53-year-old tetraplegic who was matched with Elliott in June 2015. 
As a way to give back to the charities that have helped him, including Canine Partners, Tim will be taking on the sponsored push in September 2020, starting from from St Jean Pied de Port in south-west France before crossing the border into Spain, going over the Pyrenees mountains and finishing in Santiago de Compostela near the coast.
In 2009, Tim was in a road traffic accident where a car knocked him off his motorbike, causing him to slide across the ground and hit his head on a concrete bollard. It resulted in him breaking 11 vertebrae, his sternum, punctured lungs and a broken pelvis, followed by a 10-month hospital stay.
"Before my accident, I had my own company, I was a workaholic and very sporty. I enjoyed holidays, going out and enjoying myself with my family,"
"All of a sudden I was stuck at home doing nothing and I got very depressed."
Tim is aiming to raise enough to create another partnership like his – £20,000. He wants to let someone else benefit from what he has gained from having a canine partner in his life.
"Elliott has been able to give me my life back – to be able to live it and to be able to go out and enjoy it," he says.
"I can't even begin to imagine what it would be like without Elliott, he is one of the family."
The £20,000 covers the costs from the selection of the puppy all the way through to retirement at around 10 years old.
He will be completing this incredibly tough challenge using his "Mountain Trike" wheelchair. The training will be tough.
"I think when I come to next year and it starts getting closer to the time, it's going to be hard. It's in my own hands. If I don't push myself and I don't train, then I will struggle. It's up to me and within my own destiny to be able to make it work."
Tim Scott sadly passed away in November 2019. However, his son and nephew are taking on this incredible challenge in his place and you can still donate to his fundraising page in his memory here: www.tim-elliott-camino.rocks or uk.virginmoneygiving.com/tim-elliott-camino.rocks
Watch the video:
Take on a challenge of your own
Would you like to raise funds to create more amazing partnerships like Tim and Elliott? Visit our Challenges page to be inspired.
Help transform more lives