Take on a challenge!
Posted 1 year ago in the A big thank you, Challenges categories
Could you take on a challenge to raise vital funds for Canine Partners? We have three stories from incredible people taking on amazing challenges to transform lives.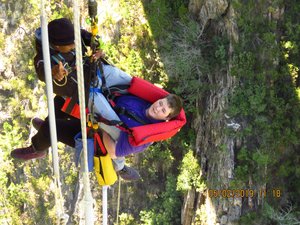 Running a marathon, bungee jumping off of a bridge and trekking 500 miles across northern Spain – these three fundraisers are taking on blood pumping, adrenaline rushing challenges to raise money to transform the lives of people living with physical disabilities across the UK.
Jackie Kennedy is a 53-year-old wheelchair user from East London, who took on the world's highest commercial bungee jump in South Africa on 5 February 2019.
Jackie jumped 709 feet from Bloukrans Bridge in Tsisikamma, South Africa, despite having a serious neurological condition.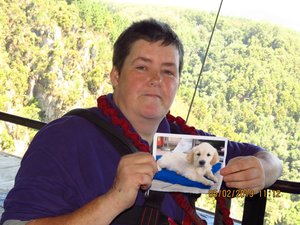 Jackie was diagnosed with Cauda Equine Syndrome and spinal stenosis in 2007 and although she underwent two emergency operations, she was left with severe weakness in the lower half of her body and has to use a wheelchair full time.
Of her adrenaline-pumping challenge, Jackie said:
"I decided to take part in this challenge to thank Canine Partners for partnering me with the most amazing dog in the world, my precious boy canine partner Kingston, as my life has been totally transformed in ways I could never imagine. Thanks to this awesome charity and my utterly amazing canine partner, I now have a life where I am living it to the fullest and not merely existing as I was previously."
Kingston helps Jackie to get undressed, accompanies her to the shower where he will take of her clothes and put them in the washing machine before passing her the towel. He also helps her get in and out of bed, opens and closes doors, and retrieves items for her, amongst many other tasks.
"The zip wire went really well and suddenly I was on the bridge looking at the views, which were breath-taking. I took a photo of Mallory, the puppy I am raising funds for, with me to remind myself why I was hurling myself off the bridge! Before I knew it I was all harnessed up and standing with my toes on the edge. My heart was racing. I thought of Mallory and my Kingston and before I could blink I had dived off the edge and was hurtling towards the ground. It was terrifying and exhilarating. The views were magnificent."
Jackie has become 'a bit of an adrenaline junkie' and is already planning her next challenge to raise more money for Canine Partners.
To sponsor Jackie please visit www.justgiving.com/fundraising/jackieandkingston or text JAXX93 and either £3, £5 or £10 to 70070.
Watch the video here
Joe Struggles, a 27-year-old from Farnborough, Hampshire, is set to take part in the Virgin Money London Marathon 2019.
Joe chose to bid on the charity's spot in the prestigious marathon, which is taking place on Sunday 28 April 2019, after hearing stories of how the charity transforms lives.
Of his amazing challenge, Joe said:
"The work Canine Partners does and stories I've heard about the amazing partnerships are admirable and inspiring, seeing how they can actually change and transform a life. From emotional and physical support dogs through to just having a pooch as a pet, I've witnessed how their companionship can affect the lives of all of us."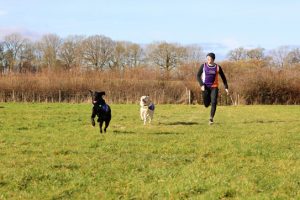 Joe has always wanted to run a marathon and has been inspired by his dad and brother, who have run the London Marathon a few times between them.
"I've been and watched various friends and family members take part but I've never been able to secure a spot. When I saw the email from Canine Partners saying that they were looking for
applicants I thought I'd apply and I'm very grateful for the opportunity and couldn't have gained a place for a better cause.  I don't really have a goal but a few people who sponsored me have mentioned me breaking the four hour mark so I know what is expected of me. I'd be happy to simply finish and focus on enjoying the day, but people have also asked about me running as a dog!"
Joe's training involves gym sessions, running two or three times a week, swimming and climbing.
To sponsor Joe, please visit www.uk.virginmoneygiving.com/joe-strugs
Timothy Scott, also known as Tim, is a 53-year-old tetraplegic wheelchair user from Kent, taking on a challenging 500 mile trek across northern Spain in September 2020.
Tim's sponsored push will start in St Jean Pied de Port in south west France, before he crosses the border into Spain, over the Pyrenees and finishes in Santiago de Compostela near the coast.
In 2009, Tim was in a road traffic accident where a car knocked him off his motorbike, causing him to slide across the ground and hit his head on a concrete bollard. It resulted in Tim breaking 11 vertebrae, his sternum, punctured lungs and a broken pelvis, followed by a 10 month hospital stay.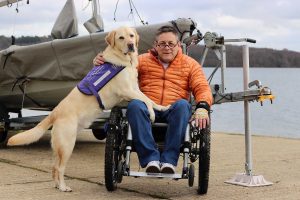 Of his incredible challenge, Tim said:
"It's a way that I can give something back to the charities that have helped me. One being Canine Partners, who have given me my assistance dog Elliott. Elliott has been able to give me my life back – to be able to live it and to be able to go out and enjoy it."
Elliott has given Tim back his independence – they go shopping and sailing together, Elliott will help Tim get undressed and take off his shoes, he helps with the washing, retrieves the phone, fetch and carry things, and pick up dropped items. Elliott can even get Tim help in an emergency by finding someone in the house and nudging the side of their leg until they follow.
"I can't even begin to imagine what it would be like without Elliott. He is one of the family. I just can't imagine not having him; my life would be empty again."
Tim is aiming to raise £20,000 by doing this incredibly tough challenge in a 'Mountain Trike' wheelchair, which is how much a canine partner costs from selection as a puppy at seven weeks old to retirement at approximately 10 years old.
Tim will begin his challenge on 5 September 2020. You can donate through his website www.tim-elliott-camino.rocks or through Virgin Money Giving uk.virginmoneygiving.com/tim-elliott-camino.rocks
Take on a challenge
Whether you run, climb, swim or jump, we need more people like Jackie, Joe and Tim to take on incredible challenges and raise vital funds for canine partners. To find out more, please visit caninepartners.org.uk/take-part-in-a-challenge/
Help transform more lives