Sponsor a sunflower and grow donations for Canine Partners
Posted 7 months ago in the A big thank you, Our partnerships, Volunteers and fundraisers categories
Angela, who is partnered with one of our amazing dogs Wilko, and her mum Carolyn have hit upon a fun challenge for lockdown - sponsor a sunflower!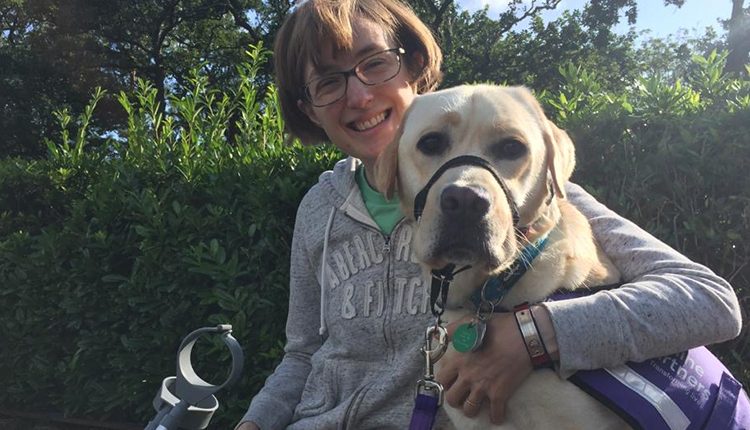 Looking for a fun competition to do during lockdown, Carolyn decided to invite her family to guess which of the sunflower seeds she had planted would grow the tallest in return for a donation to Canine Partners. Her daughter Angela then named the sunflowers after six special dogs who have all been trained by the charity and invited friends to get involved.
Angela says, "Being physically disabled, Wilko has made a massive change to my life. He picks objects up, gets me dressed, brings me my mobile, gets my husband when I fall. And on top of this he is just the most wonderful companion and friend. I am indebted to Canine Partners but so too is my family who know that Wilko is there to help me. They all worry less about me now and he has changed all of our lives for the better. There was no other option when choosing a charity [to raise funds for]."
Carolyn and Angela also know this is a difficult time for charities. Covid-19 means that we are receiving fewer donations, and all of our fundraising events and 30th anniversary celebrations have been cancelled. They were initially aiming to raise £100, but have already raised over £600 and we want to say a big thank you to them for their support! This summer, you can follow the sunflowers' progress and add your donation to Angela's JustGiving page.
Fundraise for Canine Partners
Have you got a unique fundraising idea like Angela and Carolyn? If not, visit our Fundraising Page for inspiration.
Help transform more lives