Running the Milton Keynes Marathon: Sam's Fundraising Story
Posted 1 year ago in the A big thank you, Volunteers and fundraisers categories
Teacher Sam Foster took on the Milton Keynes marathon to raise vital funds to transform lives.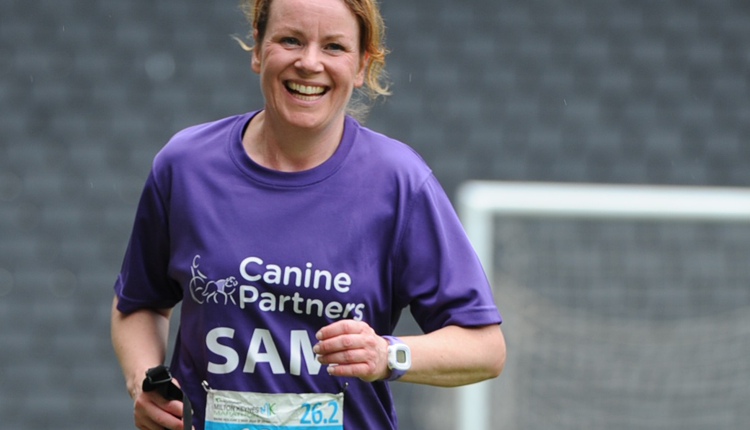 Just a few days before her 45th birthday, Sam Foster who is an art teacher and Head of Year 7 at Piggott School in Reading, ran the Milton Keynes Marathon in aid of Canine Partners. 
Sam never considered herself a particularly sporty person and only started running in her mid 30's, but in addition to this fantastic feat of running over 26 miles she also completed four half marathons over a period of eight months!
"My motivation was to raise money for Canine Partners, who do an amazing job by training assistance dogs for people with disabilities. I was introduced to this charity by one of its volunteer ambassadors, Nick Poole, who has been a dedicated fundraiser for a number of years."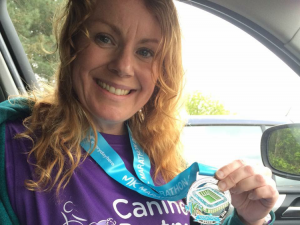 Through Nick, Sam has met a number of our partners and heard the emotional stories of how one of our dogs have transformed their lives. She decided that she could not think of a more worthwhile charity to represent.
Training for a marathon was not easy. As a full-time teacher and mother, finding time to train was a challenge in itself. With the help of Sam's partner dragging her out to run every weekend in all weathers, she stuck it out.
However, the big day didn't quite go as she had planned! Sam felt prepared by loading up with gels and flapjacks to keep her going, but she took it too far and started to feel ill at the 18 mile mark.
"I thought I would have to stop. I somehow pulled it together, and after a few miles of slow trotting, the feeling of sickness eased and I managed to run once more. Approaching the stadium finish was one of the most emotional experiences of my life. I completed the run in four hours, 48 minutes. Not the quickest, but for me, I had achieved something I never thought I was capable of."
In addition to her running efforts, her Year 7 group at Piggott School baked and sold cakes to their fellow students to bolster Sam's fundraising.
In total, she raised a fantastic £1,000 which will go towards transforming the life of a person with physical disabilities.
A huge thank you to Sam and all of her supporters!
Would you like to take on a challenge to raise money for Canine Partners?
Find out about all of our opportunities in our Fundraising section.
Help transform more lives