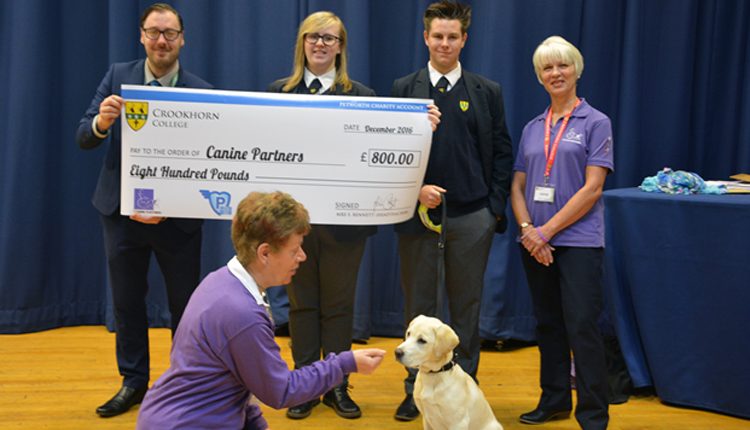 Crookhorn College in Waterlooville, Hampshire, presented Canine Partners with a fantastic cheque for £800 to help transform more lives with our amazing dogs.
The pupils plan and run a series of fundraising events throughout the year, regularly resulting in very generous cheques!
Canine Partners has a long standing partnership with Petworth House students at Crookhorn College, as the Charity delivers talks every year to their Year 8 students as part of their PSHE classes. The talks outline the work that we do to support the needs of people with significant disabilities.
Volunteer Education speaker Bev Scammell said:
"It's been great to be able to integrate the work of the charity with the school curriculum. Our talks focus on the essential skills and attributes such as empathy, compassion and tolerance, as well as the importance of valuing and respecting diversity and working cooperatively".
A huge thank you to Head of Petworth House Mr Gary Holman and his team of staff and pupils for their continued efforts and support.
Want Canine Partners to visit your school?
Canine Partners has more than 150 volunteer speakers we can visit your school, college, university or youth group to give talks and presentations on the work we do to transform the lives of people with physical disabilities. Each volunteer is trained to give talks to smaller groups within a classroom setting, as well as to larger groups in assemblies. In some cases, we may even be able to bring along one of our amazing dogs.
To find out more, or to request an educational speaker, visit our Schools and Education section.
Help transform more lives