Mucky Boots & Flawless Paws – Bernadette & Ben's Fundraising Story
Posted 1 year ago in the A big thank you, Volunteers and fundraisers categories
Bernadette and Ben are taking on all 282 Scottish Munros to raise funds for Canine Partners and Search & Rescue Dogs.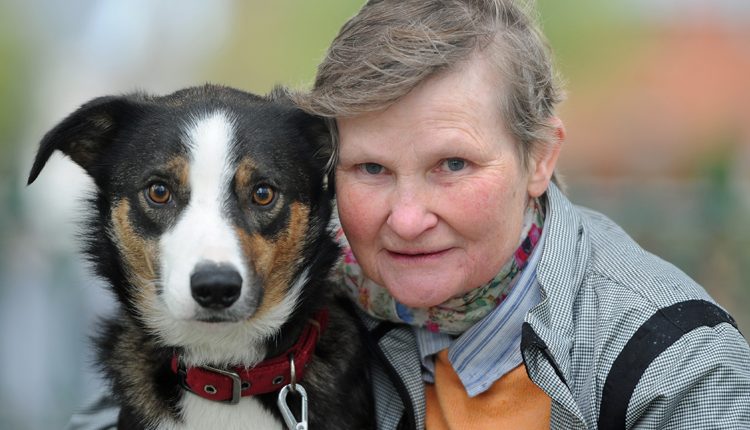 As Bernadette Walsh would soon be approaching 60 years old, she wanted to take on a project to suit the momentous occasion – so what better than to take on the 282 Munros of Scotland!
This ambitious project is taking place across 10 years, ticking off all 282 peaks by the time Bernadette turns 70. But she isn't alone on her mission, as trusty pet dog Border Collie Ben is by her side every step of the way.
Now, at 61, Bernadette has already completed 22 of the Munros – and whilst there's still quite the way to go, it's a fantastic start to the great adventure ahead.
So why choose Canine Partners as a beneficiary of her fundraising? Having worked in social care for over 40 years, Bernadette knew of the amazing part that assistance dogs play in improving the lives of people with disabilities. She said:
"The partner of a close colleague had applied for a Canine Partner to help her deal with some of the practical difficulties her MS caused and, of course, to be her constant companion. Through this association, I learned about the roller-coaster of emotions that go hand in hand with the process of: applying, matching and training, and the result of a successful partnership."
Her fundraising efforts will be split between Canine Partners and Search & Rescue Dogs, another charity close to her heart. She is aiming to raise £20,000 for us to fund a partnership from puppy selection right through to matching and aftercare.
But what does Border Collie Ben make of his owner's challenge? 
"Hello everyone, my name is Ben and I am the paws part of this project. My mission is to raise lots of dosh for Canine Partners because I am in love with Bumble, who is Sandra's canine partner. I am so full of admiration for the work she does: all that fetching, carrying and opening of doors to assist Sandra who, with Bumble at her side, can achieve all manner of things. Of course there was also the opening of a door in Sandra's heart, which Bumble walked right into and shut behind her, making them a perfect partnership. Bumble is so clever and so calm and Sandra's life is a whole lot better because of her.
Of course, being a Border Collie, I'm big in the brains department but, in all honesty, I can't put my paws up to being very calm. So I'm going to do my bit, to try and get someone else a Bumble, by climbing the Munros with my person, B. I'm v. v. v good at walking. I'm also turning my hand to a bit of writing, to help with the fundraising. This is a new talent which – even if I say so myself – is coming alone quite nicely. You can see what I mean if you visit my blog.
To help me and B complete our goal, without spending too much money, I have got my very own van, our Munromobile; it's an old VW Caddy. This gets us to our walks and we can crash out in it for the night, after a long day on the hills. Admittedly, it isn't much of a match for the soft furnishings at home, but it does the job.
Sometimes my van doesn't work very well which all adds to the adventure, though I must admit I wasn't keen on being stuck in the middle of nowhere when my van went on strike; the whole sorry saga is detailed in my blog. Please do pay it a visit and leave me the odd comment or two. Let's face it, a young fellow like me, saddled with an elderly creaking thing, is going to need a lot of background support to keep hauling her up the mountains.
If you are inspired by my big adventure, and have a few pennies to spare, you could spend them in my doggy bag fund here: https://www.justgiving.com/teams/muckybootsandflawlesspaws
As you will see, we are also raising money for search and rescue dogs. These are also amazing dogs who save lives and, lets face it, it's a very good insurance policy because I might need to call on their help if my person gets us stuck!
Thank you for reading our story,
Love Ben x 🐾"
Follow Bernadette and Ben's progress on their Facebook group, and donate here: https://www.justgiving.com/teams/muckybootsandflawlesspaws
Would you like to take on a challenge for Canine Partners?
Help transform more lives