Meet Vanessa, from Colchester
Posted 1 month ago in the Our partnerships category
The Coronavirus (COVID-19) pandemic has brought a lot of new challenges for our partnerships, including Vanessa and canine partner Valencia.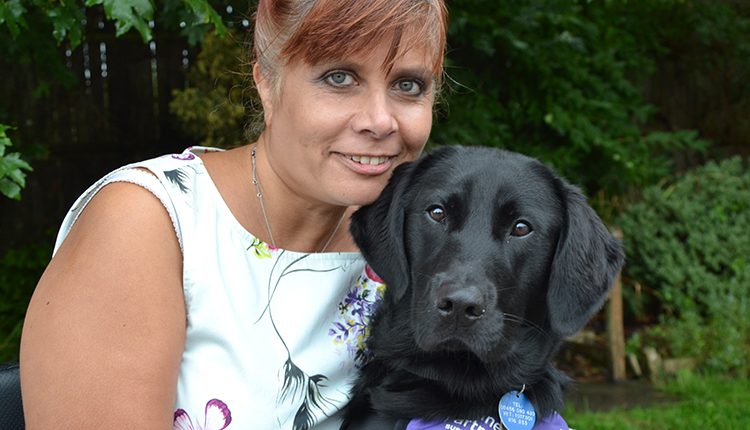 Vanessa was partnered with canine partner Valencia, affectionately known as Valley, in August 2018. This is her story.
When people talk about the independence an assistance dog brings, many imagine the idea of getting out of your home and doing things. Of course this is true, but to me it is also about independence and security in my home. I remember the first time my son came over after I brought Valley home and as he left he told me how good it was to know that he wasn't leaving me on my own anymore as he knows she is with me.
Life before Valley was quite lonely as I lived alone. The companionship she gives me is incredible. The current COVID-19 pandemic has really highlighted how important Valley is to me, as because of my condition I am shielding and I will not be able to see other people for at least 12 weeks.
What Valencia can do
Valley can do so much for me. She will get my medical bag, my emergency Lucozade and my mobile at times when I have a fall or generally feel unwell. When she has brought them to me, she will lay beside me until I either feel better or someone comes. It is a great reassurance for me and my family as I know I am safe with her there.
At bedtime she will help me get changed, put my legs into bed and then tug the duvet across me until I am tucked in. She loves to help me with the washing – taking the clothes out the washing machine and tugging a basket around the house so I can put the clothes on the radiators. Her tail wags the whole time, not just when she gets a reward for her work, as she loves working!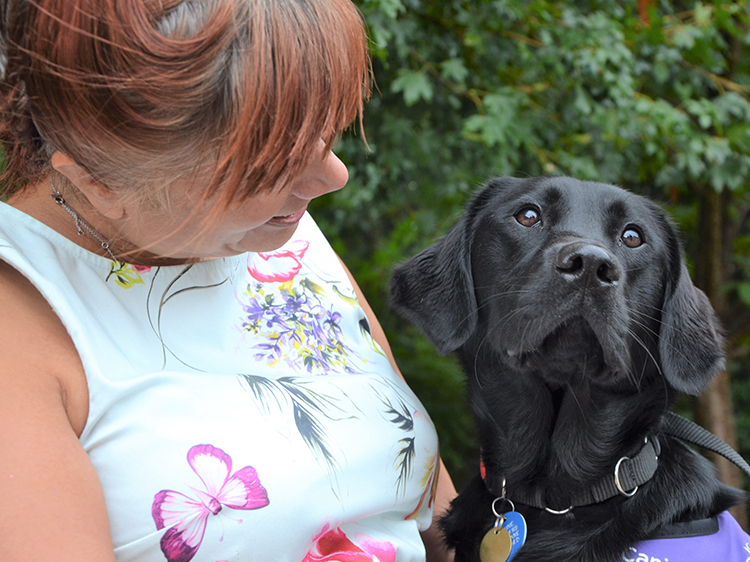 Adapting to life during the COVID-19 pandemic
The COVID-19 pandemic has brought about a lot of new challenges. For example, usually when I get a food delivery the delivery driver will bring my shopping into the house and help me with it as I can't carry much on my own.  Valley and I have found a way around that by adapting our usual washing routine – she will now take the washing basket to the front door then put a few items in the basket before tugging it back into the kitchen where she hands the items to me so I can put them away. We then repeat this until all of the food shopping is away. Valley has also learnt to help me change the bed, as I usually rely on my son to come and help me do this.
One of our favourite times together is when we go for off-lead runs. Valley gets to enjoy herself with a good run around (and zoomies!) and we will also practice commands such as wait, sit, down and recalls. I used to be a dancer and an athlete, so watching Valley run feels like she is an extension of me and like I am running with her. We both can't wait for some good off-lead time when this crisis is over, but we are having some fun in the garden in the meantime. I am walking Valley myself but at very quiet times and with a mask on, luckily it is quiet around where I live so I don't go near other people. I also know Canine Partners is there to provide support and give advice if I wasn't able to do this myself.
Life with Valencia
Since having her I have become much more independent and she has allowed me to try things that I might not have felt up to doing before, as I know Valley is always by my side no matter what. During this pandemic no one is able to come and help me, so Valley is even more vital in my day-to-day life. My condition means I get sudden blood pressure drops, which are really scary and just a few days into lockdown I had a bad episode in my garden. I called to Valley who immediately fetched my drink and inhaler and, when I was strong enough to move she stayed right by my side until we were back by the sofa where she lifted my legs up so I could lie down. She was like a real paramedic. Normally my family would visit after something like this but at the moment of course this isn't possible. I am so fortunate to have Valley and now, more than ever, she really is my lifeline. She makes me feel so safe and secure and I just can't imagine what this crisis would be like for me if I didn't have her.
The pandemic has really highlighted how important having a canine partner is for security, safety, and to ease the feeling of vulnerability. Prior to having Valley if I felt unsteady or unsafe I would have remained in bed, but since having her I know if I feel bad she will fetch me anything I need such as my medications, mobile phone and walking stick before lying down beside me and snuggling up.
Everyday is amazing with Valley. It always starts with a smile and a giggle as she wakes me up by bringing one of her favourite toys to me, and then each day always ends with a smile as she tucks me into bed. I don't think people realise how important these amazing dogs are at times like this. The pandemic has brought attention to everyone's own vulnerabilities and it has shocked and unsettled a lot of people. However, it's a situation most people with a physical disability, like me, are in before this crisis. It really highlights how important our canine partner assistance dogs are to us to allow us to continue to live our lives when we are isolated.
Canine Partners means so much to me. They have given me a new chance at life by giving me Valley and I will always be indebted to them for it. Everyday I know how blessed I am to have her. She is my constant companion, my helper, my best friend and my world. There really are no words to express the depth of love we have for each other. I can truly say where my life stops, Valley completes it.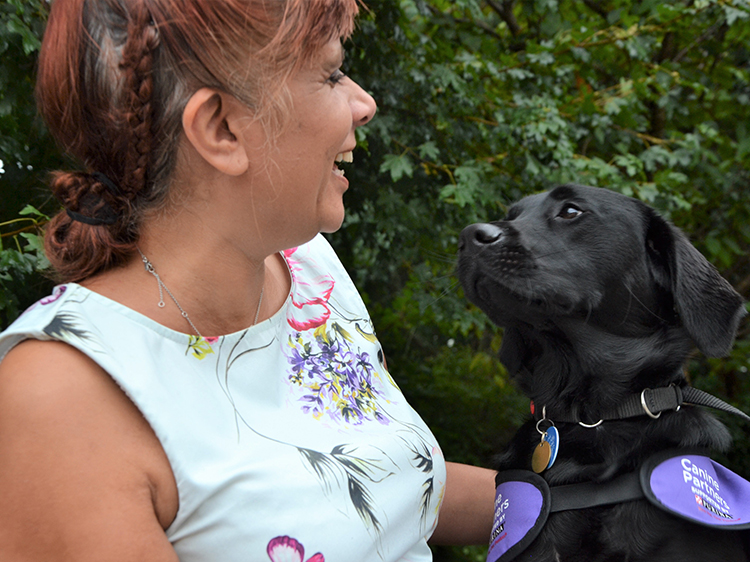 Our assistance dogs are a lifeline and even more vital in the current crisis.
We know our amazing dogs are a lifeline for our partners and even more so at this difficult time. A donation at this crucial time will help make sure that when this crisis ends, Canine Partners will still be here, able to train amazing dogs to transform lives.
Please click here to donate today and help protect the future of Canine Partners. Your donation will help to make sure our 30th year is not our final year.
Help transform more lives