Meet Ruth, a Community Fundraising volunteer from East Sussex
Posted 4 weeks ago in the Community Fundraising, Volunteers and fundraisers, Volunteers Week categories
Ruth has been involved with Canine Partners for over 10 years as both a volunteer and a member of staff. This #VolunteersWeek, read her fundraising story.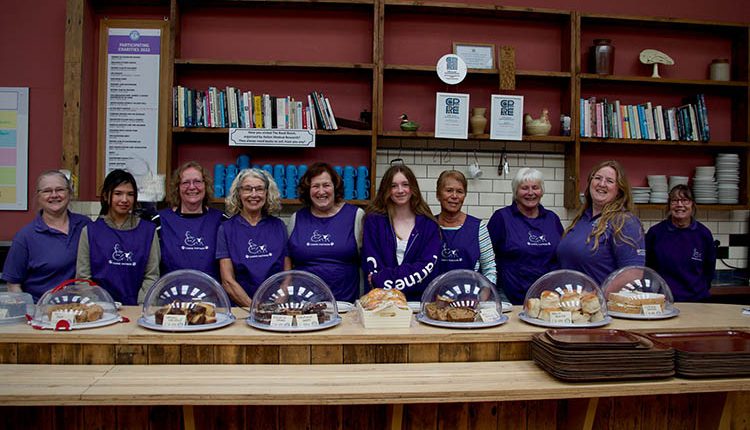 Her journey with Canine Partners started with volunteering as a Puppy Parent volunteer, helping to take care of our puppies at the beginning of their Canine Partners journey. Ruth was so captivated by the work we do and the amazing impact that an assistance dog can have on their partners' lives that she soon joined the team as a Puppy Trainer.
In this role, she helped support the training of our first dual dog (Hearing Dog and Canine Partners trained) and supported all of the local Puppy Parent volunteers in her area. In a personal capacity, Ruth has also very kindly donated 9 puppies from her own litters that have since gone on to become incredible assistance dogs.
Ruth was offered the opportunity to get involved with an event local to her in East Sussex, the Arlington Bluebell Walk. There is a local farm that every year,  invites visitors to enjoy their beautiful bluebells in guided walks. Local charities are invited to come in to support the event and are given the opportunity to raise funds from the café on the day. So, Ruth rallied together an amazing group of volunteers to help her support the event.
Ruth says: "It's wonderful to be involved with the event as it is so well supported by the public and so well organised by the team at the farm. There are 7 different walks you can take, including an accessible path which is lovely as our partners and people with physical disabilities are able to join us to experience the stunning bluebells too.
The amazing team of volunteers that support the event are just marvelous, giving their time and dedication to make it such a success. The Canine Partners volunteer team currently hold the record for the most people through the gates in one day, with over 3,000 people catered for! We are all really proud of this achievement.
Every year, the Canine Partners volunteering team just keeps growing with more friends and family getting involved. We always have such fun working together – all whilst raising money to support the creation of more life-changing partnerships."
Rachel, one of the brilliant team who has supported with the last four walks, says:
"I find volunteering with Canine Partners hugely rewarding. Having been a Puppy Parent volunteer in recent years, I've been privileged to see the difference that these incredible dogs make in the lives of their partners. It's a joy to have been able to offer both my time and skills at this year's Bluebell Walk. Not only am I helping to raise vital funds for the charity but I also love chatting to people about the incredible work that Canine Partners does."
Ruth and the volunteers have managed the event for 10 years, raising over £17,000. A truly incredible achievement for all the volunteers involved in this lovely event.
Would you like to arrange an event to fundraise for Canine Partners? Perhaps you already have a great idea or, if you're looking for some inspiration, check out our Fundraising Guide at caninepartners.org.uk/fundraising-toolkit
Help transform more lives