Meet Nicki, from East Riding
Posted 8 months ago in the Our partnerships category
Nicki has Cauda equine syndrome and essential termor and was partnered with Liggy in November 2017. This is her story.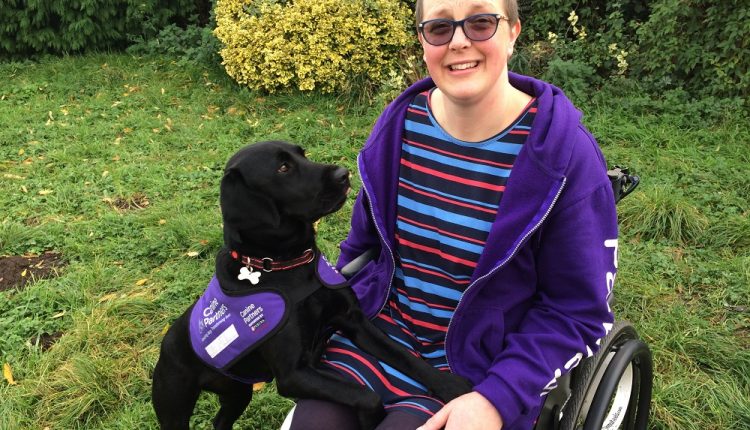 Nicki has Cauda equine syndrome and essential termor and was partnered with Liggy in November 2017. This is her story.
In April 2012, my family and I had been living in the north of Finland for just over three years. I was teaching there and we had been building our own house. Building was heavy work and none of us had done manual work like that before. In every way, our blood, sweat and tears made up the fabric of that house. However, the damage that was being done to my back, other than occasionally niggling backaches, was yet to be seen.
Over a few days, backache turned to bad sciatica and then, a static shock was the last straw and a disc that had previously been bulging, burst and fell into the cauda equina nerves at the base of my spine, crushing them and causing paralysis and numbness in my left leg. I didn't know then what I know now about cauda equina syndrome, that I needed urgent surgery to release the nerves, and so, for a variety of reasons, it was eight weeks before I was finally rushed into the operating theatre.
Initially, I thought I would make a full recovery. Surgery certainly helped remove the immediate pain. However, the nerves were permanently damaged, and the base of my spine is still very fragile. Walking, bending, twisting and lifting are all painful and very difficult. Most of the time, I have pain in my back and legs and the amount of movement I do from day to day affects my pain levels.
Around the same time, I had a diagnosis of essential tremor, something I had lived with since childhood. The intensity of my tremor varies from a little embarrassing to making some tasks impossible. It affects my coordination and balance and makes me quite clumsy. So, I drop things a lot but when I drop things, I now struggle to pick them up. That was the main reason I first applied for a canine partner.
Meeting Liggy
Before I met Liggy, I tried to do as much as I could for myself. My husband, Neil was and still is my main carer, and he is always willing to pick things up for me, but I used to get frustrated with myself. Most people are willing to help but I wanted to be able to do these things – things that for most people are so simple – for myself, otherwise I could never feel independent again. But the reality was, I was frequently in pain from bending and twisting.
I remember being asked at my assessment visit what sort of dog I imagined being partnered with. I said I'd like a dog that's a bit like me – energetic and outgoing, sensitive and caring, a dog with personality and not too perfect. I love the phrase that Canine Partners often say, 'they are dogs, not robots'. I definitely didn't want a robot. And also, though I didn't dare say it, I was secretly hoping and praying for a black Labrador!
It was early October when Liggy and I met for the first time. I'd been told that she was small for a lab, that she was lively and active but settled quickly, so her trainer thought she would do well in my workplace. I can't explain the connection between us when we first met. I think Liggy wanted me and I wanted her but we're quite alike and neither of us show very much emotion, so we didn't let on very much at that first visit. Liggy had just revealed an autumn-related excitement over blowing leaves and when it was windy, she was totally distracted by the leaves and just wanted to play. So the matching day ended with no certainty. Her trainer and one of the managers brought Liggy to my workplace the next week. I went out to meet them in the car park and Liggy nearly pulled the trainer's arm off to get to me. I knew then we were meant for each other. I think we both had that sense of wanting it to work.
I know her trainer worked really hard on the leaf problem between matching and my onsite training course. Even at onsite training, leaves were a huge focus. But we also learned our tasks and Liggy began to show me the difference she could make in my life. She was so eager to pick up dropped items for me, and this alone would have made every improvement to my life. But she had so much to learn and so many more things she wanted to help me with.
Life with Liggy
Throughout the day, and especially at work, Liggy is fantastic! While I am busy, she lies on her bed and just lets me get on but if I drop something, she jumps up in a split second and retrieves it. She is incredibly dextrous and can pick up a single key, a pencil sharpener and even a 5p piece. The only thing she never gives back is food!
In meetings, she is so well behaved but also very sociable. Equally, she is sensitive to people who are frightened of dogs, and she generally keeps her distance and remains very calm. At home, in the evenings, Liggy is amazing! After dinner, we either go for a walk or do a supermarket shop. She helps with getting items from low shelves. She's pretty good at that but she cannot accept that I only need one bar of chocolate, insisting on pulling the whole box off the shelf. She obviously knows me well! Her favourite bit though is the checkout, where she lies, squeezed up between my chair and the checkout, shuffling forward every few seconds until we reach the end. She knows that the humans are all talking about her, how good she is, how their dog would never behave so well, and she just makes eye contact with my treat bag.
One of the special tasks that Liggy was taught is to lie on my left leg and cuddle it to warm it up. Even when I'm otherwise warm, my left foot is nearly always freezing cold and in the evening it hurts. Liggy loves to lie on my leg. She shuffles around until we're both comfy and then settles in for a serious cuddle.
I didn't think I needed help with undressing until we tried it out. Initially, we just did tugging my coat sleeve but this quickly progressed to other items of clothing and now, one of my favourite parts of the day is when I go to get my pyjamas on and Liggy, with so much love and devotion in her eyes, takes off my jumper, trousers and then socks. The socks, being small enough for her to carry, she pulls off and then runs around the other side of the room and puts in the washing basket. She's so small, the basket is almost as big as her, but she's learned to flick her head to make each item fly over the edge and she does it so easily. Wherever we go, she helps take my coat, hoodie and waterproof trousers off and this has prevented further pressure on my back and leaves me with more energy throughout the day.
Like most labs, Liggy loves her food more than anything in the world. However, she has the same sense of respect for our need to eat uninterrupted too. No matter what, when we are eating, she lies quietly on her bed. We eat out quite a lot and never tire of being told how well behaved she is by restaurant staff. In fact, she's generally a real pleasure to be out and about with. I've been quite lucky that, as a wheelchair user, I've rarely had some of the negative experiences of being overlooked, ignored and talked over, but I have felt insecure and alone in a world that sometimes doesn't cater for my needs. Going out with Liggy always guarantees positive attention.
Help transform more lives