Meet Martin, a lecturer from West Sussex
Posted 3 years ago in the Our partnerships category
Martin has a spinal injury which means he has to use a wheelchair. We helped transform his life with canine partner Keith.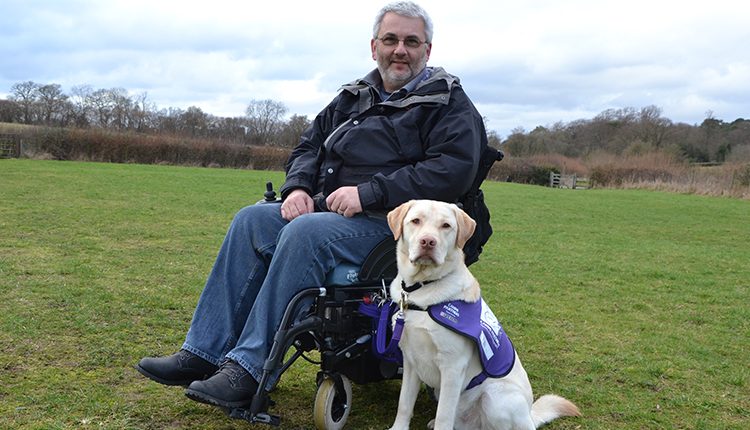 Before Keith, there was a slow underlying deterioration in my physical ability and confidence which at first I ignored but this was placing an ever greater dependency on my family. As time passed my reliance on others was slowly increasing, and some of the seemingly simplest tasks gradually becoming impossible to achieve without help.
I had also lost my confidence to go out unless someone was with me. The harsh realisation how insular my life had become made me apply to Canine Partners in 2012. When I met Keith I knew instantly this was the dog for me. With his beautiful pink nose and soft eyes, I was hooked. Within no time at all it felt like we had been together forever. Keith knew what he was doing and I felt he was giving me a quiet nod of approval. He has a naturally cheeky and fun side to his character that just simply makes us laugh and smile constantly.
From the minute we got home together Keith just took all the changes and his new environment in his stride and after what seemed like a short rest period it was back to work. My mind was full of worries, would Keith cope with the very busy environment of the college, would I be able to cope and what would the staff and students reactions be? We arrived at work and within a couple days Keith had settled in and was beginning to make an impression on everyone who met him (even Ofsted Inspectors).
The change in my life was almost instant: I could not believe it. Both at home and at work Keith just continually amazes us with his ability to understand what I need from simply retrieving a dropped item to retrieving the phone, TV remotes, collecting the mail, opening and closing doors, helping me undress, unloading the washing machine and much more. One morning we were sitting in the kitchen and our cat, Ellie, appeared at the back door. Up until this point Keith had always opened the door on command to let her in and closed it after her. On this occasion and ever since he sees her at the back door and totally independently lets her in and closes the door after her – Ellie has her own doorman!
For a very long time my wife had avoided spending time away at the weekends with friends and family because my reliance on her had almost become suffocating. Within no time at all her confidence in Keith had grown and for the first time she spent a week end away visiting family comfortable that Keith was by my side and together we could cope. Keith enjoys shopping and is always keen to visit the local supermarket. I remember the first time he retrieved my money from the cash point in the supermarket, as we turned around we were met by loud aaahs and even a round of applause.
He loves to be busy all day at work and now knows my timetable better than me, even the tea and lunch breaks. At each break he goes under all the tables retrieving dropped items and will now place them straight in the bin: we have the tidiest classroom in the college. He has such a calming nature that my day to day life is much less stressful than it has ever been.
To say Keith has transformed my life would be an understatement. He has changed my life from one of increasing solitude and confidence loss to a bright fun filled, enthusiastic and confident forward looking future. How can I possibly feel negative about the future when Keith puts his head on my knee and looks up with his big brown eyes?
Help transform more lives