Meet Lindsey, from Kent
Posted 3 months ago in the Our partnerships category
The Covid-19 pandemic has brought a lot of new challenges for our partnerships, including Lindsey and canine partner Sam.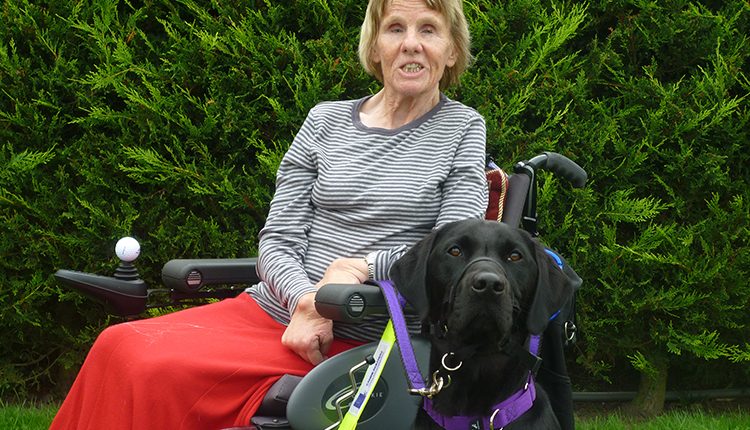 Lindsey was partnered with canine partner Sam in October 2011. This is her story:
In 2005 I had a bad fall from a horse, which damaged my spinal cord and meant I had no balance. At first I managed okay with a walking frame and holding on to different surfaces, but as time went on my balance became worse and I ended up on the floor frequently. I had to be more and more careful about how I moved around, which was quite depressing and I found it difficult to cope whilst continuing with normal life. I didn't feel confident, especially when my husband was at work.
As I am totally blind I had just accepted I would never go out on my own again, which wasn't what I was used to as I was active and had been going everywhere with a Guide Dog. I just accepted that that was it. I missed being with a dog and meeting my friends whenever I liked.
As I had previously had a Guide Dog, I was always aware of other assistance dog charities and then friends of the family suggested that as I was always happy with my dogs, it might be a good idea to apply for a canine partner. After some thought, I applied. When I first met Sam, I thought he was a lovely waggy-tailed dog with a lot of character, but I was unaware at the time of what a livewire he is! He is a dog who is up for anything. We had a lovely time during the Onsite Training Course. My husband and my retired Guide Dog Yeoman joined me, and by the time we went home we were a family.
Life with Sam
When we went home, my husband went back to work and I realised how much I had to rely on Sam for everyday tasks. Things have changed gradually over the years. He opens doors for me, empties the washing machine and picks things up from the floor. As time went on, I found he could also do things such as put my footplates up and down, help me undress and help me get into bed by lifting my foot up onto the bed. More recently, he has helped get my foot off the footplate on the wheelchair and I have found I now can't lift my knee without help, so Sam helps me by pushing it with his nose.
Outside he can press lift and automatic door buttons, and he will give my purse over the counter to the store assistant – a task which Sam likes to do as fast as he can! Emotionally I am quite happy to go out and meet friends for coffee and a walk. Without my sight I can't be totally alone, but I am happy to take an accessible taxi to church for a mid-week service and I use the taxi to go down to the seafront and meet friends for a walk and a coffee.  With Sam, I am confident and never alone. It has been eight and a half years and he still continues to do all these tasks with great gusto and love!
Adapting to life during the Covid-19 pandemic
During the current Covid-19 pandemic, I don't need to shield or self isolate due to my condition. However, I am finding it hard not being able to talk to people when I am out with Sam to tell them abut Canine Partners. Sam still continues to do tasks for me no matter what and I am very grateful that he is always there for me. The current situation makes me feel much more isolated from people. The pandemic has really emphasised the importance of my relationship with Sam and the importance of his company.
Since having Sam, my health has improved because now there is no strain of having to manage on my own and I can relax a bit more. Canine Partners mean everything to me as Sam is my life. I now feel at one with everyone else – it is no longer just me and a wheelchair.
We need your support now, more than ever, to ensure that when the Covid-19 pandemic is over, we are still here and able to train amazing assistance dogs for people living with physical disabilities across the UK. Your support will help to make sure our 30th year is not our final year.
Help to protect our future today by clicking here to donate.
Help transform more lives