Meet Kate, from Leicestershire
Posted 2 months ago in the Our partnerships category
Kate was partnered with her second canine partner May in 2014, after initially being partnered with canine partner Byron in 2007. Both dogs have changed her life, and given Kate her independence and purpose back.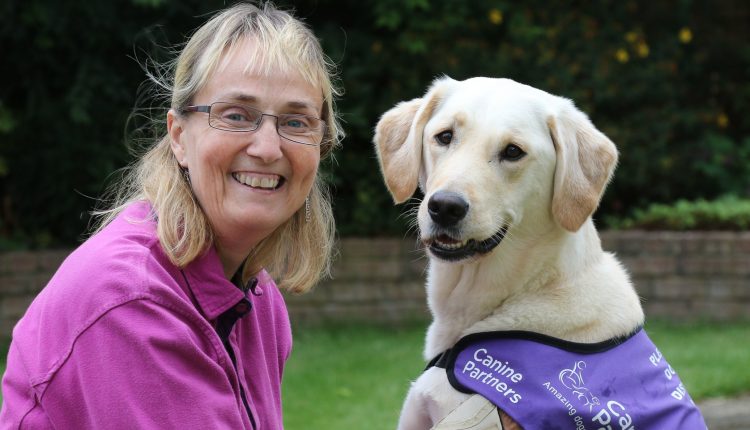 Kate was partnered with her second canine partner May in March 2014. This is her story.
I have Ehlers Danlos Syndrome, a multi-systemic condition that affects my joints, skin, blood vessels and internal organs, causing chronic pain and fatigue. This is a hereditary condition that affects me every day. In my late twenties my full and busy life as a teacher and musician slipped away little by little over a period of years, until I was unable to go to work or leave the house on your own. I found myself reliant on others to help me to participate in everyday activities and I was unable to carry out basic household jobs. My joints were dislocating on a daily basis, often as I picked something up from the floor or reached out to open a door or post a letter. I was afraid of the future because I knew my condition was likely to continue to deteriorate.
These worries were alleviated when I was matched with my first canine partner, Byron, in 2007. My life changed overnight. I got a lot of my independence back. I suddenly had a purpose again and was no longer invisible to other people. When, after a few years together, I received the news that Byron had arthritis and would have to retire early, I was devastated. I felt bad for him that he was in pain but I also felt worried for myself too. How would I manage without his help and companionship?
Meeting May
A month after getting the news that Byron had to retire, I was diagnosed with breast cancer. The following months were a series of operations, daily hospital trips for treatment and fatigue like I have never known. At the end of my treatment when I should have been feeling elated, I was, once again at a really low point in my life – struggling for independence again! When Byron retired, I lost my momentum and motivation. My life felt empty and full of pain as I started to dislocate joints trying to do tasks that Byron had previously done for me.
Then Canine Partners invited me to meet a potential successor dog – a lovely Labrador retriever cross called May. To say I was nervous would be an understatement – how would any dog be able to step into Byron's paw prints? As we spent time together I began to see May's potential. She was very steady and I felt safe with her next to me. When I met her again a couple of weeks later I had already fallen in love with her fun-loving nature and her enthusiasm for work and play.
We completed our two-week training course together and after being at home for a couple of weeks, it felt like I'd had May for months as she slotted into my life so well. In our first few weeks together I laughed more than I had ever done before as her true fun-loving character began to shine through.
Life with May
Since being partnered she has learned many new tasks and now provides me with much-needed practical help throughout the day. At home she opens and closes doors, loads and unloads the washing machine, and pulls the washing basket outside. She then hands me the pegs one at a time whilst I hang out the washing. She fetches and carries many different things and will pick up anything that I drop on the floor. This means that my shoulders do not drop out of joint so often and are less painful than they have been for years! May will pick almost anything up – things as small as a paper clip or a coin. When I need to get out of my wheelchair to get into bed or onto the settee, May stands steady so that I can put some of my weight through her whilst I transfer. This gives me stability and makes me less likely to fall. She is like my shadow, always there willing and ready to help.
May often predicts what I want or need before I ask her to do things. When we go up to bed, she helps me to undress pulling off my clothes very carefully, avoiding any dislocations. She then takes my clothes and puts them into the laundry basket. When we are out in town, May is able to press buttons for pedestrian crossings, a lift or automatic doors. She can post letters and retrieve money from the cash machine. In the supermarket she fetches items off the shelves and puts them in my basket. At the checkout she loads my shopping onto the conveyor belt and passes my purse over to the cashier.
May showed how intuitive she is when I passed out on the floor downstairs late in the evening a few months ago. My husband, Stuart, had already gone up to bed and had no idea of what had happened. I had trained May to go and fetch help from another person when she was asked to, but in this situation I was unconscious and unable to give her any instructions. However, May took herself upstairs and alerted Stuart who came down to help me. May lay close by my side and licked my arm as I regained consciousness – her way of reassuring me I suppose. Both my family and I have great peace of mind knowing that I have a dog who will get help in an emergency.
May diverts my thoughts away from myself, my pain and the worries of the day. This lovely fun-loving dog has taken some of my disability away and has given me freedom. Jobs that were impossible and dreary are now achievable and fun. In the past if I was in pain, I may have stayed in bed all morning but I now get up, carried along by May's love of life! She is so much more than a dog who gives me practical help: she is by my side constantly, my loyal friend, my security, my doorway to independence and she fills each day with laughter due to her sunny character.
I can now live a more ordinary life thanks to a very extraordinary dog: my canine partner, my amazing girl, May.
Help transform more lives