Meet Janette, from Cirencester
Posted 2 months ago in the Our partnerships category
Meet Janette and canine partner Solar, who has given her back the control and confidence to get out and live life to the full.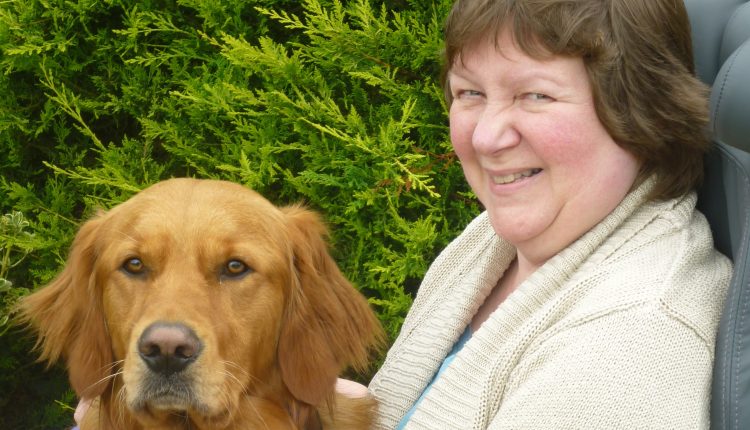 Janette was partnered with canine partner Solar in June 2011, after being diagnosed with Multiple Sclerosis (MS) in 1992. This is her story.
MS is a condition that affects your brain and your spinal cord, meaning the symptoms vary from person to person. When I was diagnosed, my main symptoms were in my hands, and I wasn't able to walk very far. It's a progressive disease, so now I can't walk at all and I use a wheelchair full-time. I have to be hoisted from my wheelchair as I can't transfer myself.
Before getting a canine partner, life was really difficult. Before my diagnosis I was able to do everything on my own, but then I suddenly couldn't. I had a dog of my own at the time, who was getting older, but I still had no confidence to go outside and I needed more and more help as my MS progressed. I hated depending on family members and carers, as it meant I had no control over my life.
Meeting Solar
I discovered Canine Partners when I went to the Cotswolds Show – the charity had a stall there. I spoke to the staff and volunteers on the stall and decided to look into how an assistance dog could help me.
Waiting for a canine partner was hard, as although I still had my own dog at the time, he obviously couldn't do anything for me physically. However, once I applied for a canine partner it didn't take long for it all to fall into place. Meeting Solar for the first time was absolutely fantastic. Solar came bounding into the room where I was waiting and jumped up on to my lap. I knew he was the one for me – he's beautiful. The onsite training course at the Southern Training Centre was great and it was wonderful to finally be able to take Solar home.
Life with Solar
After Solar, everything seemed to just open out for me. I am much more confident about going out, and there's more of a reason to go out too. I love that people come up and ask me about him and what he does for me – he's a conversation starter. People want to come up and talk to you when you've got a dog, which makes me so much more confident about going out.
Solar can open doors, closes doors, and pick things up. He can get me help when I need it; either by the name of a person or by finding a person nearby. Once I was stuck in a field and he barked until he drew the attention of a group of ramblers, who then came to help me.
Another time Solar found a lady who then dialled 999, and I ended up in the local paper! He can also take things out of the washing machine, he'll bring me the post, and he'll bark when someone comes to the door to let me know someone is there. Every mealtime he'll fetch me my apron and bring it to me. He loves doing task work.
My partner provides a lot of my care and I've got carers who come in too, but now I can incorporate Solar into the daily tasks. I can also get Solar to do the little things for me, like picking up the remote control if I drop it, rather than asking a person to help me. He makes me more independent.
Solar is only nine and in my mind I shall be keeping him forever. However, he will be retiring in the next few years and I can't imagine my life without him. The charity, Canine Partners, is wonderful.
Help transform more lives