Meet brood bitch holder Angela from Nottinghamshire
Posted 6 months ago in the Volunteers and fundraisers category
Angela is a retired 57-year-old, who currently has canine partner mum, Fay.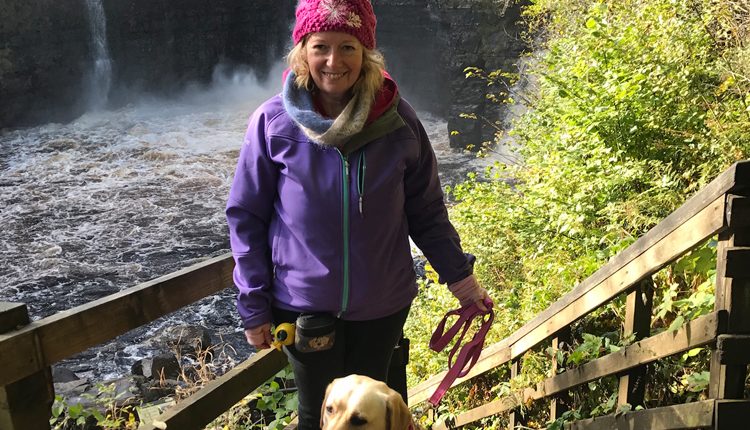 As a charity, we rely on volunteers to give their love, time and homes to our amazing canine partner mums.  The volunteers look after the canine partner mums, also known as brood bitches, and are responsible for taking care of the new-born puppies until they are around seven weeks old. The puppies born will grow up to be amazing assistance dogs for people living with physical disabilities across the UK. The brood bitches live out in volunteer homes and spend most of the year as a well-trained family pet.
Here is Angela's story, a retired 57-year-old who currently has canine partner mum, Fay.
Fay joined Angela's family in August 2017. Before Fay, Angela had no experience of looking after a bitch or bringing up a litter of puppies. After seeing Canine Partners at Chatsworth Country Fair, Angela started volunteering as a puppy parent in 2013.
After looking after three puppies-in-training, Angela was approached by the Breeding Department.  Angela said:
"I had already considered it but had no experience so thought I wouldn't be the right sort of person to do it. The breeding team reassured me that I didn't need any experience and we discussed at length what it entailed before I decided it fitted in with my family lifestyle so agreed to go ahead and do it."
Fay, a yellow Labrador retriever, lives with Angela as a well-trained pet, which Angela say is 'such a joy'. Fay loves going for walks, playing with her toys and just being with Angela and her family.
Each brood is expected to have approximately four litters, one litter per year, before being retired. Volunteers, like Angela, do not need any experience as all the relevant support and training will be provided by the charity. Fay had her first litter in 2018. Angela said of the experience:
"I was nervous when it came to the time for her to have her puppies, but the support I had from the team at Canine Partners was second to none. Lyn and Sian, from the Canine Partners Breeding Department, were with me every step of the way and nothing was too much trouble to make sure I had everything I needed to support Fay and her puppies. They were available 24/7 if I had any concerns between their visits. The whole experience was magical. It was hard work but to see those tiny little pups develop and change every day was absolutely fascinating and it made the bond between me and Fay grow even stronger."
Angela encourages others to volunteer as a brood bitch holder, as it has 'enhanced her life immeasurably'.
"I have learnt so much as a brood bitch holder and I am really looking forward to Fay's next litter. I feel so lucky to have this gorgeous girl and it seems a very small price to pay to give up eight weeks of the year to bring up her litter. The pride I feel seeing her puppies go on to be with their puppy parents is immense. I get regular updates on how they're doing as well as photographs which is wonderful. I am very proud of my girl as she is a very good mum and has produced some beautiful and clever pups, who will go on to change someone's life. To be there at the birth of a potential canine partner is very special indeed and something I will treasure forever."
Often asked 'how can you give the puppies up?', Angela says it's sad to watch them move on but is often reminded of the amazing canine partners they will become in the future.
"Their mission in life is to be amazing and transform the life of a person with a physical disability. If I can be any part of that process, I can be extremely grateful and proud of that achievement. Being involved with Canine Partners was the best decision I have made in my life. I have learnt so much and met some wonderful people. It has given me a purpose in life since I retired. When you see the end result – a dog that has changed someone else's life for the better as a canine partner, words can't really describe the sense of pride and fulfilment it gives you."
When Fay retires from having puppies, Angela will keep her as a pet and can officially adopt her.
Becoming a brood bitch holder is a highly rewarding role.
We desperately need more volunteers to look after our amazing canine partner mums to help us fulfil the demand for a canine partner. If you or someone you know could help us raise amazing puppies and get them ready to move on to the first stage of their training at around 7 weeks old, find out more and get in touch with us by visiting caninepartners.org.uk/brood-bitch-holder/
Help transform more lives