Family to take on 1,500 mile bike ride for a life-changing assistance dog
Posted 2 years ago in the A big thank you, Volunteers and fundraisers categories
A family are preparing to take on 1,500 miles in memory of their son to raise money for Canine Partners.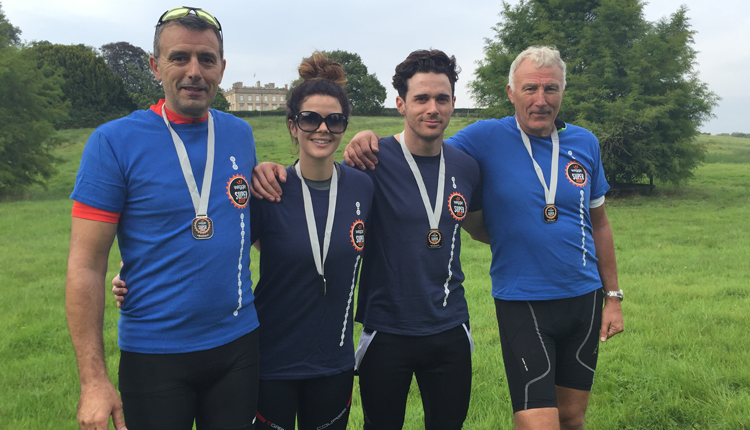 Peter Keeble, along with daughter Francesca, her boyfriend Daniel and uncle Andrew are preparing to take on a gruelling 1,500 miles from Roscoff in northern France to Nerja in southern Spain in memory of Peter and wife Margaret's son, Patrick, who suddenly died aged 26.
They hope to raise £15,000 to sponsor a dog in honour of Patrick's memory who was a great lover of dogs, as well as people.
The family is no stranger to fundraising for us, as they have already sponsored canine partner Lester who has transformed Michelle Cole's life by providing her with greater independence, confidence and a sense of security.
The challenge will begin on Saturday 13 May, with the route taking them through stunning countryside and coastlines, as well as not one but two mountain ranges – climbing an impressive 32,000 feet!
They will pedal around 100 miles a day across 15 days which will see them pedal to Nantes, France, then along the Atlantic coast to the Spanish border before crossing the Pyrenees Mountains.
After that they will travel across Spain, over the Sierra Nevada mountain range towards Malaga and their final destination of Nerja where Peter's friend David Lindley will host a well-deserved welcome party at his home.
Patrick's mum Margaret, who helped to organise the trip, will be accompanying and encouraging the group by following in a support vehicle.
During the challenge, they will also be celebrating two birthdays – as Andrew turns 54 and Daniel hits the 30 milestone. We hope they have time for some cake!
Peter, a retired sales director said: "We wanted to do something big in Patrick's memory and as he used to do a lot of cycling himself, we thought that would be a great challenge. It's also a way for us to spend time thinking about him together and take another step towards our healing.
"We chose to raise money for Canine Partners because Patrick loved people and dogs – especially his big Cane Corso, Ducco, who is still part of the family.
"As the charity trains dogs that support people it was the perfect cause so after he died we decided to sponsor Lester, who supports Michelle, a woman who is about Patrick's age and has MS.
"Now we're hoping to sponsor another dog like Lester so that we can help change somebody else's life and keep Patrick's memory alive.
"All of our friends are surprised we're going to cycle so far. The most the four of us have every cycled at one time is about three days – when we took part in a London to Paris trip, so we're going straight into the unknown. We're looking forward to it.
"The first few legs hopefully won't be too bad a journey because they're mostly across flats, but then we have to cross the Pyrenees Mountains and then the Sierra Nevada."
So far, the family have raised an amazing £6,801 but they are hoping to raise even more to reach their £15,000 target.
To read more about their story, and help the Keeble family with their fundraising challenge to sponsor an amazing assistance dog, please visit their JustGiving page justgiving.com/teams/teampatrick. 
Help transform more lives