Dog Friendly Pancakes Recipe For Your Four-Legged Friends
Posted 3 months ago in the Dog welfare tips and advice category
Our Dog Welfare Team share a great recipe for dog friendly pancakes so your dogs don't miss out on the fun this Pancake Day.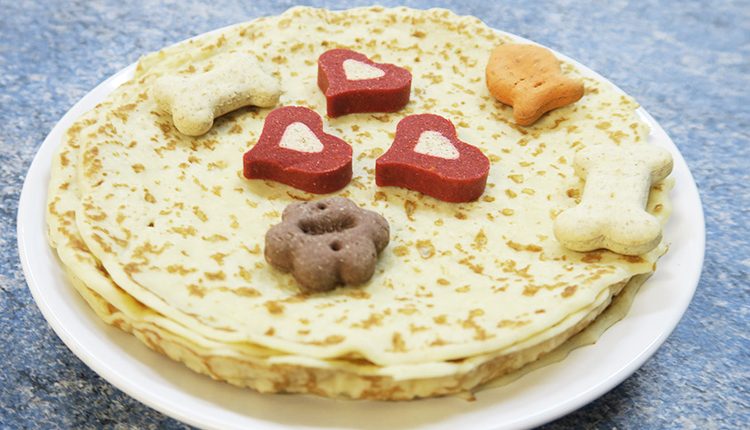 We're all quite partial to a pancake or two (or three…), and there's no need to leave the dogs out of all of the fun.
Dog friendly pancakes are very similar to the human version – but instead of using milk, you can use water instead. Easy peasy.
Ingredients
Method
Combine the three ingredients into a batter. Add more water if necessary.
Next, add some of the mixture to the bottom of a microwaveable dish and pop into the microwave for a couple of minutes. You can also fry your dogs pancakes with a small amount of oil, which is good to keep your dog's coat shiny and healthy.
Voilà! The dog friendly pancakes are ready!
How about some dog friendly toppings?
Us humans might be partial to a little lemon and sugar, but there are some great dog friendly toppings that your pooches will love! Here are a few ideas:
Drizzle some Marmite over the top for a savoury treat
Spread some peanut butter over the top – great for humans too! Be sure to avoid peanut butter with xylitol as this can be toxic for dogs
Chop up some banana pieces or apples to serve with the pancakes – these would go great with the peanut butter too
Add chopped veggies like carrots or cucumbers
Decorate the pancakes with your dog's favourite biscuits
Please remember that treats like yummy dog friendly pancakes should form part of your dog's overall daily food intake – keeping your dog at a healthy weight is crucial for their well-being.
Help transform more lives