Before you apply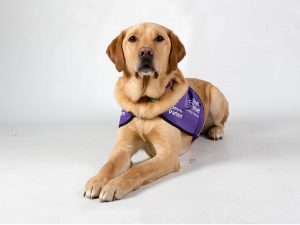 Our amazing dogs give their partners greater independence and a better quality of life by providing physical, emotional and psychological support. But along with these benefits comes a great deal of commitment and responsibility. Before you apply, please check if you are eligible, and that you meet the requirements for having a canine partner.
Are you eligible to apply?
You can apply for a canine partner if:
you live in the UK

you (the person the dog will be partnered with) are aged 18 or over, or coming up to your 18th birthday over the next few months

you have a physical disability which affects your daily life and think a canine partner would help you to be more independent

you are able to regularly exercise the dog, either on your own, or with someone who can accompany you

you have somewhere safe where the dog can toilet, which you can easily access from your property

you understand dog-ownership is a long term commitment with important responsibilities and you would enjoy playing, grooming and training the dog every day
People who are not eligible to apply
Canine Partners' primary focus is to help adults with physical disabilities. This means that sadly we do not provide assistance dogs to:
People under the age of 18

Those whose

sole

reason for applying relates to epilepsy, autism, dementia or mental health issues, and who do not have any physical disability
For more information about other assistance dog charities that may be able to help people with these disabilities, please visit our assistance dog charities information page.
Can you care for a canine partner?
Before applying for an assistance dog, please consider the following:
You will need to give your dog regular exercise – every day – regardless of the weather, on the lead or off the lead. When exercising your dog off the lead, it must be somewhere safe and away from roads – either on your own, or with someone to help you.

You will need to feed, play, groom and train your dog every day and give them lots of love, praise and affection

To do a good job, your dog will need to accompany you most of the time

You will need somewhere safe and enclosed where your dog can toilet
It is possible to get support with care and exercise. However, as the partner, ideally you would carry out the majority of these responsibilities. This is important for maintaining the bond and good working relationship with your dog.
Can you afford to look after a canine partner?
There are a range of costs, some one-off and some long term:
Dog ownership
The Charity retains ownership of the dog during its working life, but for the cost of £1 you will become a custodian of the dog.
Residential training course
There is an optional fee of £120 per person, which we require when you complete the two-week on-site training course with your new canine partner. If you have a carer or family member that can accompany you, then we ask that they be accommodated at the same rate.
Long term costs
When you take your dog home after the training course, there will be the day-to-day costs of looking after a dog, including paying for dog food, vet bills and health insurance. The following are some examples of typical costs:
Food at approximately £40 a month

Health insurance at approximately £25 a month

Worming, flea and tick treatments at approximately £90 per year

Veterinary consultation costs at approximately £35 per consultation
Many of our partners receive direct payments from their local council to cover the costs of having a dog, as their canine partner is recognised as an official carer, but that is not guaranteed.
If you feel that cost is the only thing which stops you taking your application for a canine partner further, it would be worth talking to us about your concerns.
Other important things to consider
Aftercare
We offer ongoing support and advice through regular aftercare visits from our aftercare assistants. These ensure that your dog settles in, and that you carry on working well together. We will continue to visit and support you for the lifetime of the partnership, and this will include:
a minimum of seven visits in the first year

one visit every six months after the first year

additional visits if necessary, or if you request additional support
After your dog's work becomes more established and you are both continuing to work well, you will be invited to a Partnership Ceremony at one of our centres. This day celebrates your success along with other members of staff and volunteers who have helped create your partnership.
Retirement
A partnership lasts for as long as the dog remains fit and healthy, and the partner is able to manage and care for the dog. Our dogs retire on, or by, their twelfth birthday.
We are dedicated to ensuring that, during retirement, our dogs continue to enjoy happy and contented lives. This may involve the dog remaining with their partner or finding a new, loving home – often with family or friends of the partner.
Next step: Find out how our application process works
See what steps are involved, what information we need from you and how long it takes.
FAQs
What happens if I have another dog, or other pets, in the home?

We need to be sure that another dog, or any other pets, will not interfere with the work being carried out by your canine partner. We can advise you better on an individual basis after completing a home visit later in the assessment process.

Can I take my dog to work with me?

Access laws that cover assistance dogs place a requirement on employers as well as service providers to make reasonable adjustments to accommodate a dog. Please let your employer know that you are applying for a canine partner and if there are any issues or concerns, please let us know as we may be able to support and advise.

What happens to my dog when I go on holiday?

Access laws in the UK mean that it should not be a problem to take an assistance dog anywhere in the UK. If you wish to travel abroad, there's a list of regulations, laws and specific restrictions governing the transport of a dog in and out of the UK and therefore we would need you to contact us before planning any holidays abroad.
Get in touch
Contact us with any questions.