Our team values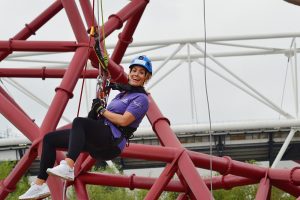 The work we do is extremely varied and different jobs require different skills. Whatever your role, our six values form the foundation for everything we do. Our strong values mean we have a positive working environment and our teams have a passion for supporting our amazing partnerships and are proud to work for a charity that transforms lives.
We value teamwork, friendliness and mutual respect for one another. With our values aligned to our charity mission and vision, we can all work towards the same goal and we are keen to find talented people who share our values.
Excellence
We always aim for the very highest standards. We never accept anything less and work hard to make improvements where necessary.
Respect
We always aim to deal with other people in the way we would ideally like to be dealt with.
"All of the CP values are really important but overall I think Respect is probably most important. I believe it is important to treat colleagues, partners and volunteers with respect. Our roles are all equally important. With respect comes confidence and with confidence comes job satisfaction." – Jenny, Creative Communications Officer
Passion
We are passionate about our work and the mission of our Charity. We throw ourselves into everything as much as possible and enjoy the rewards.
"I think it is so important to be passionate about what you do, especially when working somewhere where your work can truly impact the lives of others. Being passionate about your work means you work harder and do the best that you can. I am lucky in my job role as I get to meet and hear the stories of the partners whose lives are transformed by our amazing assistance dogs, which makes me even more passionate about raising awareness of our charity across the country so that we can transform even more lives." – Elly, Communications Officer

"I put 110% into my work because it is not just a job, it's a passion with an incredible end goal." – Els, Demo Dog Instructor and Coordinator
Teamwork
We are a multidisciplinary team, spread across the UK. We support each other, through good times and the not so good.
"Teamwork is probably the value that is most important to me as this job is so much easier when we are all working together. We get better results and all enjoy the job so much more. And what could be better than training a puppy so they can transform someone's life?" – Natalie, Puppy Training Coordinator
The personal touch
We foster a friendly family feel towards anyone with whom we come into contact. Whenever possible we are flexible and seek to tailor-make our service to every individual.
"My favourite value is personal touch. I think it is vital that you feel connected to a cause, and that a personal touch can really make people feel valued and heard. The personal touch can ensure this, and lets others know that you care about them, and they are not just another cog in the machine, rather they are recognised as an individual. The personal touch can allow others to see your passion (another one of our values) for the subject and can really make them personally invested too." – Holly, Fundraising Administrator
Innovation
We aim to lead the way in everything we do becoming ever more expert. We try new things, in the full knowledge that some things work and some things do not but if you never try, you will never know. We welcome any new ideas.