About the team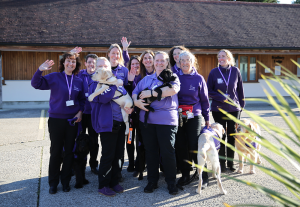 Thinking of joining us but not sure if we offer the right team for you? Each and every one of our employees contribute to our progress, so whatever team you join, you'll have a part to play.
Whether it's Fundraising, Marketing and Communications, Operations, People, Resources or Finance – there will be a team to suit your skills. Find out more about our directorates below.
Operations
We have a range of rewarding roles within our Operations Department. These are located at either our Southern Training Centre, Midlands Training Centre or in locations supporting our puppies in training or partnerships across the UK. Our Operations Department is made up of several teams; breeding, puppy training, advanced training, dog welfare, housekeeping, applications and aftercare.
"The interview day and practical experience allowed me to gain an insight as to who I would work with, the types of tasks I would be doing and how the Operations team gels together. It's a lovely team to be apart of." – Els, Demo Dog Instructor and Coordinator

"I'm lucky enough to care for the dogs in Advanced Training so I get to see the excellence of our Advanced Training team on a daily basis. From working on the basics of picking up dropped items to pushing buttons and loading washing machines, after almost 5 years I'm still in awe of what these dogs can accomplish! It's amazing seeing the bond develop between the trainer and their dogs, how excited the dogs are to learn their new tasks and the fun they have whilst learning. The amount of dedication our training team show to their dogs is phenomenal and it makes me immensely proud to be a tiny part of the process. Plus I get lots of daily doggy cuddles!" – Callie, Dog Welfare Officer
Fundraising, Marketing and Communications
Our Fundraising, Marketing and Communications teams offer varied and rewarding work every day. You will be in an important frontline position to support our partnerships by raising vital funds. You will also have the unique opportunity to raise awareness of Canine Partners, sharing your enthusiasm for our charitable work with people discovering us for the first time.
"I love the working environment. Everyone is so lovely and welcoming, available to give advice on work and non-work related issues. They are happy to help, and are a great support system. I value the atmosphere around the workplace and love that there are periods of serious heads down, working time, broken up with periods of light chatter and amusement."  -Holly, Fundraising Administrator
People, Resources and Finance
We have a number of different functions in our offices to help support our work in our offices at Heyshott, West Sussex and Osgathorpe, Leicestershire. If you are interested in a career in finance, administration, resources or HR, you could put your skills to use in an organisation where you can really see the benefit of your hard work.
The roles in our people, finance and resources teams play an important part in supporting the teams behind our amazing dogs and play just as big a part in transforming the lives of people with physical disabilities.
"I'm really passionate about HR, and I love being able to use my skills, qualifications and experience in a charity where I can really see a difference and make a positive improvement." – Sarah, HR Manager