Hertfordshire woman urges people to vote for an assistance dog charity to get a share of a £3m Freemasons grant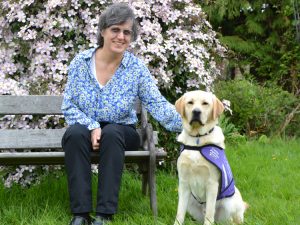 WHEN Sally Richardson met Dale she knew he would change her life forever.
Her four-legged saviour has turned back the clock on her illness and given her something to live for.
Now the charity that trained Dale, her amazing assistance dog could get a huge cash boost – and she is urging people to help.
The 56-year-old from St Albans was diagnosed with ME/CFS (myalgic encephalopathy/chronic fatigue syndrome) with fibromyalgia in 2000 – and doctors say she is likely to be severely affected for the rest of her life.
She was finding every day a struggle. She was housebound, lonely and couldn't even watch TV for a few minutes without feeling shattered and in debilitating pain.
"I was suddenly thrust into isolation with a sluggish, oversensitive, painful body and a brain swamped by thick mud," said Sally.
"I have had to try and find my way through what has now been 18 years of a chronic illness that even few medics understand.
"Nobody needed me. I had no purpose in life. I found it very hard to see my future.
"My life was structured by medical appointments, homecare visits and my social life depended on others. I depended on them being free – to call in on me, or have a phone chat or go out."
But when Dale came bounding into Sally's life everything changed.
The three-year-old Labrador from assistance dog charity Canine Partners helps her with everyday tasks including picking up anything she drops, opening and closing doors, fetching the phone and the post and even loading and unloading a washing machine. With his help Sally has the energy to do other things.
Her four-legged friend has even helped her venture outdoors while also providing constant emotional support and companionship.
"Dale has given me a purpose in life – a reason to get up in the morning, someone who needs me to care for them," Sally said.
"He is my constant companion. He is beside me when I need to lie down and rest, when my voice is weak, when my brain shuts down and my body is crying out for relief. He is there to bring fun to daily chores and a chuckle at unexpected times.
"He creates a structure to my day and a way to connect with other people and be part of the wider world.
"Dale challenges me to think differently.
"He has brought back my sparkle, my spirit, my self-confidence and joy for life -something that my years of illness had taken away and made daily life such a struggle. That is something that is impossible to put a price on, but now I have it I cannot imagine life without it."
Now Sally is urging people to support the charity so that even more people's lives can be transformed through amazing assistance dogs like Dale.
She is calling for people to vote for Canine Partners and help them win a community award from the Freemasons of up to £25,000 – enough to pay for five puppies to complete their first year of training.
It comes after the charity was nominated for the award by Freemasons in the Hertfordshire area in celebration of Freemasonry's 300th anniversary which will see 300 charities across the UK each receive a share of £3m.
The amount Canine Partners could receive will be determined by the amount of votes it receives before July 31.
Sally said: "I would urge everyone to vote for them to receive a £25,000 grant from the Freemasons – money which would help transform five more people's lives by matching them with a canine partner.
"The charity receives no government funding, so awards like these are vital in order for them to continue training their amazing assistance dogs."
Paul Gower, Provincial Grand Master for the province of Hertfordshire added: "We are proud to be able to support many charities across Hertfordshire, but in this special 300th anniversary year we want to involve the public, as well as local Freemasons, in deciding which of the nominated charities should benefit most. I urge everyone to visit the website and vote."
To vote for Canine Partners to win a £25,000 grant before July 31, visit mcf.org.uk/region/Hertfordshire
Voting is open to both members and non-members of the Freemasons across the UK.