Daredevils preparing for a challenge of a lifetime to raise cash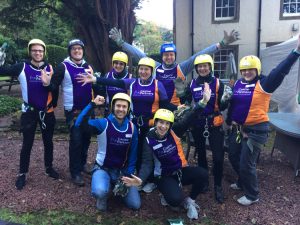 IT'S not a challenge for the faint-hearted.
Towering 165ft above a fast-flowing river, the iconic Forth Rail Bridge is one of Scotland's best-loved landmarks.
And on Sunday October 15 a team of 15 brave volunteers are preparing to scale the 127-year-old UNESCO World Heritage Site structure in South Queensferry, Edinburgh to raise cash for Canine Partners.
It comes after last year's event raised almost £4,000 for the charity – but this year fundraisers are hoping to raise even more.
The cash from the SAS-style freefall abseil will help Canine Partners continue its work training special assistance dogs that can pick up dropped items, load and unload washing machines, dress and undress a person and fetch help in an emergency.
Canine Partners' Scotland community manager Dale Gormley who took part in last year's event said: "For many years we've been involved with the Forth Rail Bridge Abseil and it is such a fantastic event.
"Having taken part myself I can confirm it is great fun and an incredible experience!
"Our participants always raise an amazing amount of money which makes a huge difference to our work helping people with disabilities in Scotland.
"Anyone interested in taking part should get in touch as soon as possible because our places will fill up fast!"
It costs £20 to take part and participants are asked to raise a minimum of £200 through sponsorship.
The abseil from the bridge, which stands over the Firth of Forth River, was organised by health charity, Chest Heart and Stroke Scotland in a bid to raise money and awareness for charity.
For more information about Chest Heart and Stroke Scotland visit chss.org.uk.
For more information about Canine Partners or to sign up, call Dale Gormley on 0845 481 1915, email daleg@caninepartners.org.uk or visit caninepartners.org.uk.