Cream tea raises thousands for assistance dog charity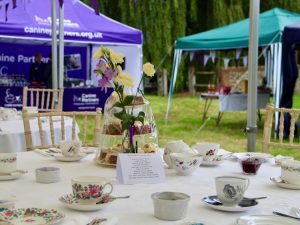 TEA was slurped and cake was chomped – raising thousands to help disabled people.
Canine Partners' volunteer Ali Bailey organised a cream tea at her friends' Amelia and James Tuttiett's home in Bishops Waltham for more than 70 guests.
The event raised more than £7,000 which will help Canine Partners train more amazing dogs that support disabled people with everyday tasks.
The dogs pick up dropped items, dress and undress people and even load and unload washing machines. They can also fetch help in an emergency.
These practical skills help boost people's independence, confidence and sense of security.
Ali has volunteered with Canine Partners for more than 10 years as a speaker and demo dog handler looking after demo dog Yarna. The pair visit events across the country promoting the charity's work and Yarna shows off some of the skills the dogs are taught.
Ali, who is from Chandlers Ford, said: "We had a fantastic time at our cream tea, enjoying lots of cake, Champagne and good company while raising money for such a worthy cause.
"Although I organised the event I could not have done it without our hosts Mr and Mrs Tuttiett and my team of enthusiastic volunteers. We also had fantastic support from local businesses that sponsored the event.
"Canine Partners receives no government funding so events like these really do make a difference – helping to train dogs that transform people's lives for the better."
The fundraising cream tea saw 71 people munch 150 scones, 300 pieces of cake, slurp dozens of glasses of Champagne and take part in a bumper raffle.
Ali was supported by a team of 12 people who helped her host the event.
For more information about Canine Partners call 0845 658 0480 or visit caninepartners.org.uk