Organise your own fundraising activity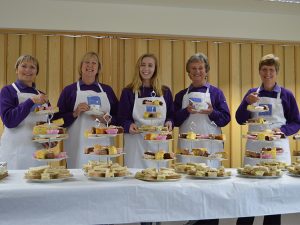 Organise your own small event for just a few friends, or plan a full day of games and fundraising activities in aid of Canine Partners. All activities and events raise vital awareness for Canine Partners, no matter how big or small!
Here are some handy hints and tips for creating a great fundraising activity or event.
Fundraising ideas
The most successful fundraising activities and events are the ones that the supporter has chosen to do because they have a skill in that area or because they enjoy it. So please make sure you feel it is manageable, fun and achieves your goals too! Here's some ideas to get you started:
Dress down day at work or school

Quiz/games evening

Cinema/dinner night

Cake sale

Car wash day

Fashion show

Sporting event

Cards evening
Top tip
Remember to check at work if your company will match-fund your fundraising efforts – a very quick way to double your effort!
Sponsorship
If you would like to raise money from your event, you can log your donations by setting up a JustGiving page so people can sponsor you online.
Spread the word
Promote your event at work or school as well as among your family, friends and the local community.
Put up posters, send out invites at school or work, or on community notice boards and ask local businesses to promote them for you.
We may be able to help with publicising your event, either in the local papers or on local radio. If you would like us to do this, please get in touch.
Our Communications team can also offer some post-event publicity if you send us the details and photos of your event.
Pay in your money
Pay in money raised from your fundraising event online or post us a cheque made payable to Canine Partners.
Keep it safe and legal
When you organise your own fundraising event in aid of Canine Partners, you are responsible for making sure it does not pose any risks to others. That is why we would recommend you do a risk assessment.
You may need to consider taking out public liability insurance for events such as sponsored walks or runs, which will protect you against claims made by third parties. In most cases it is unlikely that Canine Partners' own insurance policy will cover an event that you have organised. Please check if you are unsure.
For more information, visit the Institute of Fundraising.
If you are planning a fundraising event for children, please also visit the Institute of Fundraising.
Raffles
If you organise a raffle and tickets are sold and drawn on the same day there are no legal requirements. However, if you sell prior to the date you will need a local license. For more information take a look at gamblingcommission.gov.uk. 
After your event or challenge
We would love to hear how your event or challenge went and we would especially love to see any pictures! Make sure you let us know on Facebook and send photos through to us at press@caninepartners.org.uk
Don't forget to let everyone know how it went, what you raised, and thank those who helped and supported you.
Get in touch
Contact us with any questions or for advice about fundraising.