Request a speaker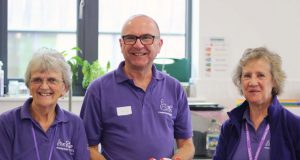 We have an network of over a 100 amazing volunteers who visit groups across the UK to help us raise awareness of Canine Partners. Our talk normally lasts around 30-45 minutes, but we can be flexible and adapt the talk to meet your needs.
Please note that whilst we would try and bring a working dog to our talks, we cannot guarantee that this will always be possible. Only a small number of our volunteer speakers have a working canine partner.
Request a speaker today to make your event more memorable and to help us spread the word of Canine Partners.
Who our speakers are:
Partners with our amazing dogs

Volunteers and fundraisers

Canine Partners staff
Who we visit:
Groups including Rotary, Women's Institute, Inner Wheel, Probus
Youth and community groups including Guides and Scouts
Businesses and organisations
Schools, colleges and universities
Many types of other events and groups
Costs
Although we don't charge for our talks, we would be grateful if you could help us cover our volunteer speaker's travel expenses. If you are able to make a donation, £50 is our suggested amount. We are incredibly grateful for all of the generous donations we have received from talks. We appreciate that not every group will be able to give a donation, and because of this we do not charge a set fee.
What people say
"Good morning Stephen, Thank you so much for coming to speak to us yesterday. I have had such good feedback from the 'girls' and everyone thoroughly enjoyed your visit. The videos of the partners really brought it home to us what a huge part the dogs play in the transformation of their lives and we have nothing but admiration for you all.
Our most sincere thanks and our very best wishes to all at Canine Partners."
For a talk given by Stephen, one of our amazing volunteers, to a WI
Interested?
Request a speaker, or ask us a question.