Canine Partners Textile Art Challenge
United Kingdom
Get creative by stitching, painting and gluing to help raise much needed funds.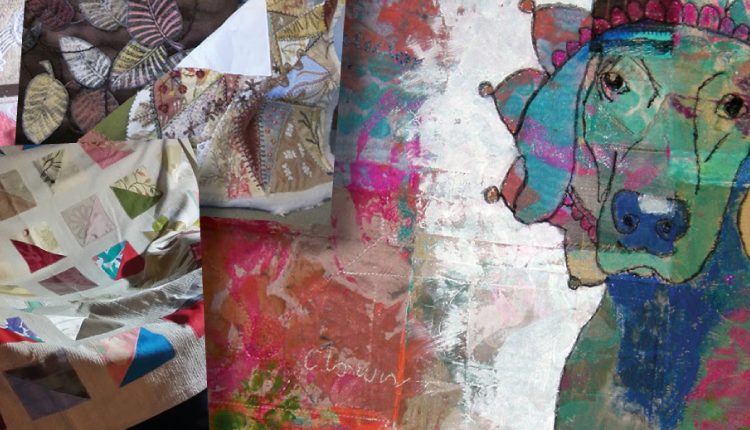 Art lovers, are you ready for our Textile Art Challenge?
The Canine Partners Textile Art Challenge is back – it's time to stitch, paint and glue to help transform disabled people's lives.
Whether you fancy yourself as the next Neil Buchanan, or just want to try your hand at crafting something for a good cause, get involved in this exciting challenge!
We are aiming to raise £5,000 which will pay for the advanced training of one of our amazing dogs.
The Challenge was founded by Olive Rowell, who was part of the team of embroiderers who helped create the Duchess of Cambridge's wedding dress in 2011. This year we are delighted to have the support of Dr Sharon-Michi Kusunoki, internationally renowned Curator and Executive Director of Surrealism and the Arts.
We are challenging creative adults and children to buy a pack of 25 fabric squares and use them to create something really special – whether they are put together to make a canvas for a painting, or stitched into a costume, quilt or stuffed toy…the choice is yours!
The finished designs will be put on show and sold at an exhibition to raise further funds for our charity.
Fabric packs are just £10, with all proceeds going to Canine Partners. You can buy your pack from our online shop.
Delivering and exhibiting your work
Artwork from Southern regions should be delivered to Rosemary's Parlour, North Street, Midhurst GU29 8SB, Monday 10th – Thursday 13th April 2017 ready to be exhibited at The Oxmarket Gallery in Chichester, West Sussex.
Artwork from the Midlands and Northern regions should be delivered to Fields Farm, Ashby Road, Osgathorpe, Loughborough, Leicestershire, LE12 9SR Monday 10th – Thursday 13th April 2017 ready to be exhibited at The Copper Leaf Art & Craft Café, Ashby de la Zouch.
All works must be available for sale.
Do share your progress and ideas on social media using the hashtags #TextileArtChallenge and #TransformingLives to help inspire others to take part! Tweet us @canine_partners, tag us on Instagram @caninepartnersuk or visit our Facebook page.
To find out more or to purchase your fabric pack, please contact Jane Grant.
Ready to get creative?
Register your interest or ask us a question