We need you to nominate us in your local store!
Posted 7 months ago
Nominate Canine Partners as a local charity for local stores and businesses to support.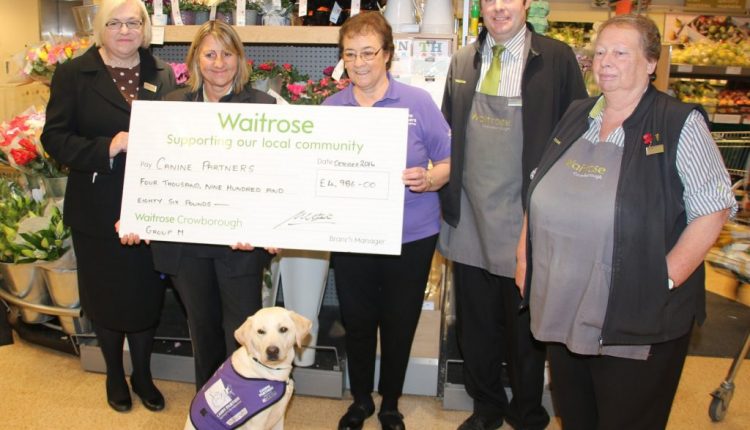 Nominate Canine Partners as a local charity for local stores and businesses to support.
Many local stores and businesses, such as Waitrose and Sainsbury's, now accept nominations for local charities to support. These schemes work by charities being nominated by their supporters in the area local to the store.
We have raised thousands of pounds from these schemes, so why not ask your local store or business if you can nominate Canine Partners? Whether there's a partnership that lives in the area or a puppy satellite based nearby, you can give our national charity a local angle when you nominate us.
To nominate Canine Partners for Waitrose's Community Matters scheme, simply go into your local branch and complete a nomination form which you can then hand in at the Welcome Desk.
Every year, Sainsbury's choses a Local Charity of the Year partner for each store. Why not ask when they will be taking nominations and keep us in mind for next time? When nominations reopen for 2019, you can then pop in to store, fill in a form and nominate Canine Partners.
Tesco's Bags of Help scheme means buying a bag pays for local projects and charities. Charities can apply for a grant (that's the bit we do at HQ), but customers can also nominate local projects they would like to see receive funds. Vote for Tesco to fund your local Puppy Satellite, one of the two training centres near Midhurst in West Sussex or Osgathorpe in Leicestershire, or to fund a local Canine Partners community group.
You can nominate Canine Partners at your Local Asda too. The Asda Foundation's green token scheme is just as easy, just visit your local store and complete a 'Nominate a Cause' card.
There are plenty of other supermarkets and local smaller stores that accept charity nominations too.
Nominate Canine Partners
By nominating, you are helping us to raise more awareness and vital funds to create even more amazing assistance dogs to transform the lives of people living with disabilities across the UK.
A huge thank you to everyone who has already nominated Canine Partners in your local store.
Help transform more lives