Volunteer of the Month – Meet Weekend Fosterer Martina, from Leicestershire
Posted 4 months ago in the Volunteers and fundraisers category
Martina is a Weekend Fosterer for Canine Partners. This is her story.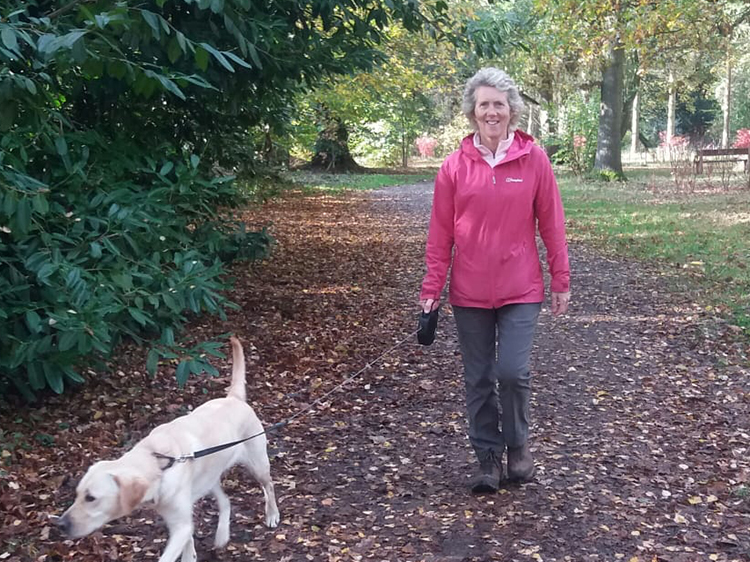 Martina has been volunteering for Canine Partners for five years, and has fostered 15 dogs in that time. When our assistance dogs in training are approximately 14 months old, they start our specialist Advanced Training programme based in one of our Training Centres. They live on site during the working week and they need to rest at the weekend, so they go to a volunteer Fosterer.
Martina describes why she became involved with Canine Partners:
"I love dogs and walking, and feel that this volunteer role allows me to do what I love at the same time as playing some part in helping to change a person's life, which is totally humbling and rewarding. I have grown up with dogs and looked after family and friends' dogs too, although I have actually learnt more from the Advanced Trainers than I could have imagined."
Martina describes what her role as a Weekend Fosterer involves:
"We collect a dog on a Friday late afternoon, after the dog has training for the week on site. We care for the dog at home in a family-friendly environment, allowing the dog to 'chill out' and be in good shape for the following week's training. It is important for the dog to feel settled with us as quickly as possible, as it will have been quite a transition for them after leaving their Puppy Parents.
We take the dog on walks over the weekend, which we thoroughly enjoy. It's important that the dog is able to switch off at the weekend, so it's getting a balance of play, fun and rest with them. We also complete a questionnaire of specific questions, which tells the Advanced Trainer how the dog has got on over the weekend.
We then return the dog to the Training Centre on a Monday morning. We attend two Fosterer training sessions per year at the Midlands Training Centre, which helps us understand and assist the Advanced Trainer with any specific tasks that may be required of us."
Martina describes her experience of being a Canine Partners volunteer:
"It's a great way to meet like-minded people who love dogs. It is very rewarding seeing how the dog develops along the weeks, to the ultimate goal of them being matched with a person living with physical disabilities. You work with exceptional people at the Training Centre who are all enthusiastic and grateful for your contribution. There are fundraising events throughout the year, where you get to meet up with other volunteers and it's always nice to socialise.
You do get attached to the dogs, and sometimes (or always!) shed a tear when they come to the end of their training, BUT you know that they are going to assist and live with somebody who needs them far more than you do. It is very rewarding to attend the Partnership Ceremony where you hear from the partner how their dog has transformed their life, and the feeling that you have played a small but important part in the dogs journey to assisting truly inspirational people."
Become a volunteer for Canine Partners during our 30th anniversary year:
There are lots of ways you can volunteer for Canine Partners during our 30th year. To find out more, please visit caninepartners.org.uk/volunteering
Help transform more lives