Volunteer of the Month – Meet Puppy Parent, Glenis from West Sussex
Posted 4 months ago in the Volunteers and fundraisers category
Glenis is a volunteer Puppy Parent for Canine Partners, currently looking after her 11th puppy-in-training. This is her story.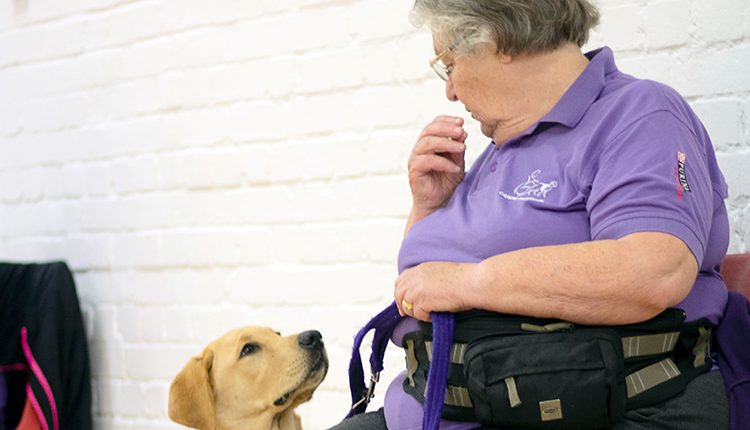 Puppy Parents play a vital role in the early socialisation and training of a canine partner. At eight weeks old, we place each puppy with a volunteer puppy parent to live with them for around 14 months, until they are ready to move to one of our dedicated centres to start advanced training.
Our Puppy Parents care for the puppy with support from the Canine Partners expert trainers, who teach them the fundamentals of puppy socialisation and simple commands to begin the puppy's training. During this time the puppy is learning the skills needed to become a well-rounded dog, that will go on to transform the life of a person with a disability.
Glenis describes how she became a volunteer Puppy Parent:
"When I was a child, my dad gave me a little corner of our garden. I delighted in tending my small patch, often sharing seeds and cuttings, special visitors never went away without dutifully inspecting my produce, and my favourite people would also leave with a precious posy of whatever was in bloom.
All through my childhood, my dog would be at my side, my best mate, suffering the dressing up, the pram and boat rides, the bandages for pretend wounds, always there for me. Sadly, in life, autumn must come, and just as the flowers in my garden withered and died, so too, must I lose my beloved best mate.
As an adult, I had my new little plants to love and nurture, until they grew independent, and left the garden to pursue their careers, and develop their own gardens. Always the dog in my life has been as important to me as my own family, until one day, when having bade a tearful farewell to a precious four legged friend, I decided I could no longer go through this pain of watching a dog grow old and leaving me.
It was at this point that I contacted Canine Partners, a charity which trains dogs to give disabled people a level of independence. It would be easy, I thought, I can have a puppy, love it, nurture it, with no worries of food or vet bills, no kennel fees, then after a year, give it back, so that someone very special can benefit, just like my flowers of long ago."
Potential volunteers are often concerned about how they will feel when their foster puppy leaves them to start their advanced training – Glenis describes her experience:
"Give it back? Could it be done? Was I selfless enough to do this? There are over a million disabled people in this country, many of whom could benefit because of a dog, a dog who has learnt the skills necessary to help. A dog can change someone's winter into summer, could I be a part of this process? Well, I am now about to start anew with my eleventh puppy!
Honestly, saying good bye is not easy, each one of my pups takes a bit of my heart when it leaves, but my tears are not full of pain, and sorrow, they are full of pride, and joy. My pups are the flowerbuds in my garden, they will bloom into instruments of love and care. I would love it if more people would join me in creating a bouquet for someone special."
Become a volunteer Puppy Parent for Canine Partners during our 30th anniversary year:
Being a puppy parent is highly rewarding, challenging and fun, offering a chance to learn new skills and meet like-minded dog lovers. We are on the lookout for volunteers like Glenis to take on this vital role and to provide a home for our amazing puppies. To find out more about becoming a Puppy Parent or to apply, please visit caninepartners.org.uk/puppy-parents/
Help transform more lives